Written by:
Tony Korologos
|
Date:
Thursday, December 27th, 2012
Categories:
Boneheads
•
Golf
•
Golf Courses
•
HOG World Tour
•
LPGA Tour
•
Miscellaneous
•
PGA Merchandise Show
•
Pro Golf
•
Rory McIlory
•
Site News
•
The Masters
•
Tiger Woods
---
At the end of each year I like to go through the previous year's posts and do a summary of all the interesting news nuggets, happenings and such.  Needless to say 2012 was amazing, from going to the Masters to shooting my lowest score EVER.  Let's look at the first third of the year.  Not all of the posts are mentioned, just a few select ones.  You can click the links in the descriptions or click the date headings to go to the archive of that month.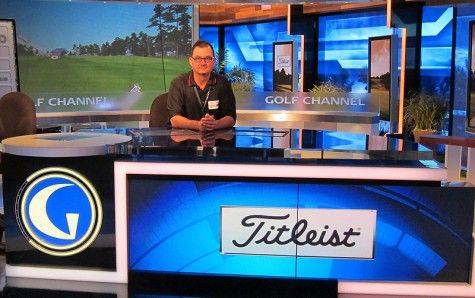 January 2012 – 56 Posts
My usual January features the yearly trip to golf's biggest worldwide trade show, the PGA Merchandise Show in Orlando, Florida.  During the week of the show I did many interviews with top golf companies and their staff as well as showing all the new gear, apparel and accessories in the golf world.
I also got to tour Golf Channel's facilities, and even get a shot of myself behind the Golf Central desk.  Fun stuff.
January was also when Hank Haney released his book about is six year relationship with Tiger Woods.
I set some goals for my golf game in 2012, some of which I achieved and some which I did not.
Sadly, the great golf announcer Jim Huber died.  I met Jim once and he was very nice and friendly to me.
February 2012 – 59 Posts
I posted a review of Kingsbarns Golf Links, one of the best courses I've ever played.  Location: St. Andrews, Scotland.
I'm not a big fan of very many "made for golf network TV shows" on Golf Channel, but Feherty won me over.  Feherty debuted in February 2012.  I even talked with Feherty and Hank Haney on a conference call.  Fun stuff.
Nike Golf once again provided the grand prize for HOG Space fantasy golf, a $1200 set of VR_S Forged Irons.
A golfer was stabbed on a golf course over a slow-play argument.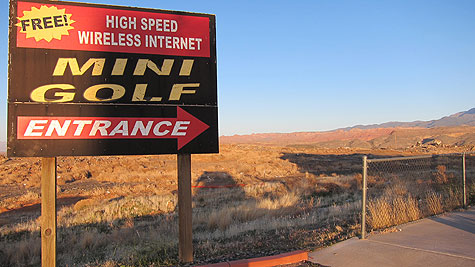 March 2012 – 45 Posts
After the LPGA updated their web site, no more barf bags were needed.
I picked up a Nikon D7000 camera for better golf photography.
I posted my first review of a deserted miniature golf course in the middle of the desert.  "Free High Speed Wireless Internet Mini Golf" was a hell of a track.
My 2nd and 3rd article were published in Utah's Fairways Magazine.  Cool.
After withdrawing from the WGC Cadillac, Tiger Woods's vehicle was eerily slow-chased by a blimp.  Anything for ratings I suppose.
Golf architect Gil Hanse was named the designer for the Rio 2016 golf course.
The Hooked On Golf Blog World Tour traveled to Mesquite, Nevada.
Rory McIlory moved up to #1 in the world golf rankings.
April 2012 – 56 Posts
Luke Donald knocked Rory McIlory out of the #1 spot in the world golf rankings.
I posted my Nike Golf VR_S Forged Irons review.
I upgraded the Hooked On Golf Blog theme, hopefully improving the site…haha.
100's of websites selling counterfeit golf clubs were shut down.  GOOD.
A drunk "patron" was arrested for attempting to steal sand from Augusta National Golf Club at the Masters Tournament.  Think they revoked his badges?  🙂
I attended two practice rounds of the 2012 Masters Tournament.  My comments and some photos of the 2012 Masters can be found here.
Speaking of the Masters, here is a selection of some unique images from the Masters.  Not stuff you see every day.
Speaking of speaking of the Masters.  I spent a couple of hours walking Augusta National's par-3 course with my new Nikon D-7000.  I know of NO better and more complete image gallery of Augusta National's par-3 course than my own.  Cool.
END OF PART ONE – PART TWO POSTED TOMORROW!