Written by:
Tony Korologos
|
Date:
Monday, August 8th, 2016
Categories:
Golf
•
Golf Clubs
•
Golf Equipment
•
Golf Gear
•
Reviews
Tags:
irons
•
Miura
---
Say hello to the Miura Series 1957 Limited Edition Small Blade Irons.  I've been "working" on this review for a some time now.  It has been a rough go, playing one of the world's best irons and such.  Yes, being at the top of the golf blog heap can be difficult.  I'm up to the task though.
About Miura
Before we look at the Series 1957 Limited Edition Small Blades by Miura, we should talk about who Miura is for those who may be unfamiliar.  Miura is a family-owned Japanese club manufacturer, founded by Katsuhiro Miura.  Mr. Miura is a master club-maker who has been making clubs for over 50 years.  The company is located in Jimeji, central Japan.
Miura has made primarily forged irons and wedges, though they are now producing other clubs like drivers and hybrids.  Miura is known as one of the world's best makers of irons.  Miura uses the highest quality Japanese steel, know for its performance and feel.
Many PGA Tour pros who are endorsed by some of the popular golf manufacturers actually play Miuras, despite being paid by their sponsors.  The pros simply tape over the Miura name so fans can't easily see the real manufacturer.  Keen eyed golf club aficionados are not fooled.
Series 1957 Limited Edition Small Blade Irons
The Miura 1957 Small Blade Irons are the highest performing irons made by Miura, according to the man himself, Katsuhiro Miura.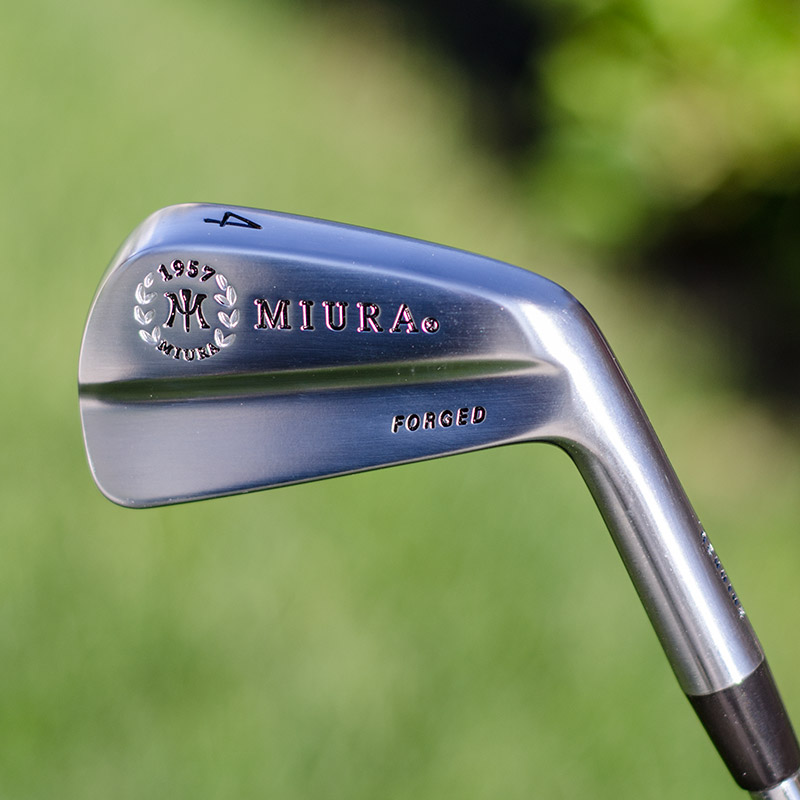 When a company whose products are such high performance states that a particular product is their best, there's nothing much on planet earth that will outperform it.  I concur.  Let's look at the specs of the Small Blades.
Material
The Small Blades are made from low-carbon, premium Japanese steel. Japanese steel is widely known for its quality worldwide. The irons are specially forged in Miura's own forge in Himeji, Japan.   These irons are not made in China.
Finish
My set is the satin nickel chrome. The satin finish is beautiful and does not produce distracting glare in the sun.
The irons are also available in Black Boron finish, limited quantities.
Technical Specifications (more on this later in the review)
| | | | | | | | | | |
| --- | --- | --- | --- | --- | --- | --- | --- | --- | --- |
| | | #3 | #4 | #5 | #6 | #7 | #8 | #9 | PW |
| | Loft (degrees) | 21 | 24 | 27 | 30 | 34 | 38 | 42 | 47 |
| | Lie (degrees) | 59.0 | 59.5 | 60.0 | 60.5 | 61.0 | 61.5 | 62.0 | 62.5 |
| | Offset (inches) | 0.11 | 0.10 | 0.10 | 0.07 | 0.07 | 0.07 | 0.07 | 0.06 |
| | Finished Length (inches) | 38.75 | 38.25 | 37.75 | 37.25 | 36.75 | 36.25 | 35.75 | 35.5 |
Size
The Small Blades are 15% smaller than Miura's regular "tour" blades.  Blade irons are typically known as "hard to hit" by the average golfer.  Mr. Miura says, "I have a special pride in this club. That's because it's so easy to hit." Once again, I concur.  More in my "on the course" commentary.
On The Course
I lit up the first time I hit one of these irons.  It was the 7-iron.  The feel was so amazing and the ball launched high and straight.  I just thought I got "lucky" and was sure the hard-to-hit nature of blades would catch up to me. I was sure I'd hit one of those mis-hits which would sting, or make my fingers numb, or hurt.  I've been waiting for that to happen for months.  There's something about these blades which is different.  The feel is so buttery that even off-center shots feel good.  I have a lot of experience with those too.  A lot.
I've found these irons to be very easy to hit, regardless of their blade nature.  In fact, they are easier to hit than several "game improvement" clubs which I've tried out.  I realize that sounds odd.  You'll have to trust me on that.
With blades this incredible, the type of shots and ball flight a player wants to hit are all on him/her.  These irons respond tremendously when I have to manufacture some kind of shot or work the ball in a particular direction.  If I put the right swing on a shot, the iron will produce exactly what I'm asking it to.  I can hit them low (usually as a result of being in the trees off the tee), high (to go over the same trees), or fade/draw as needed.  Truly amazing.
Critique
The one critique I have is with the lofts of these irons.  Across the board these are more "standard" blade lofts from years ago.  These irons are not "strong" lofts.  Most of the irons are at least one degree weaker than most modern irons.  Many of the irons are two degrees weaker.
This can be a slight hit to the player's confidence level as the irons will go shorter.  I've had to adjust my numbers to make up for the lofts.  Where I used to hit an 8-iron, I'm hitting 7-iron, and so on.
Once adjusted, the accuracy and confidence I have with these irons is the best of any iron I've played, and I've played far more than the average golfer ever will.
That said about the lofts…  I think no irons should have numbers on them, just lofts.
Hello Turf, Nice to Know You
The way the club interacts with the turf is tremendous.  Whether the lie is tight and hard or in long rough, the club's grind and small head size produce very little resistance and interference from the turf.
The small design makes sense.  Less surface area produces less resistance.  Plus Mr. Miura has tweaked the edges and corners of the club ever so slightly.  Those slight grinds and angles help prevent unwanted interaction with the ground and keep the club's path and angle of attack where the player is delivering it.
Simplicity
A look at the iron photo above tells a big story.  Part of what makes these Miura irons so great is their simplicity.  There are no funky patterns, paint jobs, dumb names, logos, or mysterious weight-looking "things" that don't do really anything…
Shafts
Miura will shaft the irons with shafts from any of nine "recommended" shaft makers including Aerotech, KBS Tour, True Temper, Project X and more.
Final Thoughts
Miuras are not for everyone.  They are not inexpensive.  It's sort of a "if you have to ask how much they are, they're too expensive," proposition.  The market for these clubs is not the mass-sales model of the big name brands, where you find their clubs in every pro shop and big box store on the planet.  The clubs are painstakingly forged in Japan, by hand.  These are not cheapo mass-produced Chinese-made clubs.
Playing these Miuras is a joy.  They're tremendous.  Any player who wants the highest performance and feel a golf club can produce, should look strongly at the Miura Series 1957 Limited Edition Small Blade Irons.