Written by:
Tony Korologos
|
Date:
Tuesday, December 13th, 2016
Categories:
Golf For Women
•
Golf Life
•
Golf Lifestyle
•
HOG World Tour
•
Life
•
Reviews
•
Travel
Tags:
Mazagan Beach and Golf Club
•
Morocco
•
Morocco Golf
---
On my recent golf trip to Morocco I had the fabulous opportunity to stay at the 5-Star Mazagan Beach & Golf Resort in El Jadida, Morocco. Mazagan Beach & Golf is a very large resort with hotel, casino, spa, huge pool, beach on the Atlantic Ocean, and a Gary Player design golf course.
Location Location Location
What a tremendous location Mazagan Beach & Golf occupies. It's basically and oceanside paradise lined with palm trees. The huge grounds are immaculately maintained and full of fantastic designs and creative landscapes.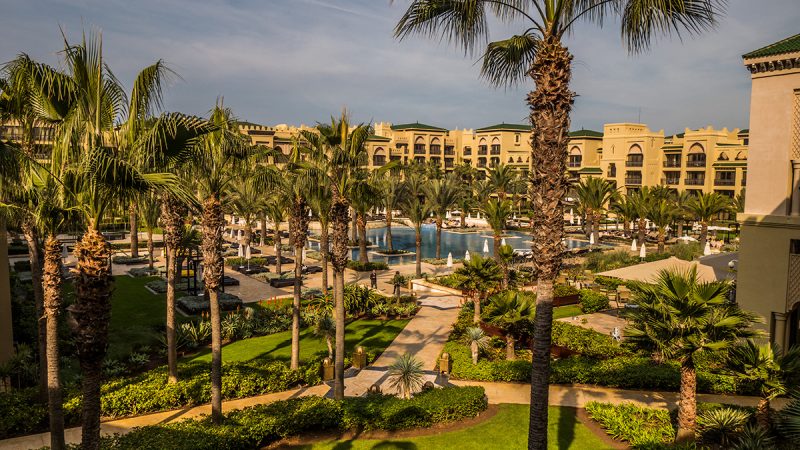 The resort's architecture reflects traditional Moroccan traditions but still has a modern and clean look and feel.
Accommodations
Below notice the open door?  That's my room.
Below is the view from inside the room, looking out to the pool area.
Turning around from the view out to the pool, this is the room.

Food and Beverage
My group enjoyed some traditional Moroccan food in the MORJANA Restaurant. The Lebanese/Moroccan food and Moroccan wine was fantastic.
The restaurant featured a musician playing a stringed instrument I'm not familiar with. Looked like a bouzouki but it wasn't. Then after that we were treated to a belly dancer who was fantastic.
John (above) enjoyed watching the belly dancer, but yours truly was the one she picked to dance. Never before have such awful dance moves (mine, not the belly dancer's) been on display in the content of Africa. I guarantee it.
Spa
I had NO idea how many knots I had in my back.  It was a great thing that I was able to get a massage while at Mazagan.  The masseuse was incredible.  She found, and resolved knots in places I didn't know existed.  It really helped out my endurance and flexibility for the rest of the golf trip.
While working out some knots the masseuse, who spoke nearly zero english asked, "you work on computer?"  She could tell. I responded, "world famous golf blogger. If I'm not on the golf course I'm at the computer penning Blogitzer Prize winning golf blog posts."  Actually, I just said yes.
Casino
I did not test my luck at the casino, though I did take a quick look in. Very nice. My bank account thanked me for my self-control.
Golf
I'll be posting a review of the Gary Player designed Mazagan Golf Club soon. The course runs along Mazagan beach. Huge breakers crash in on the shore. Huge. Now I know why some friends of mine take the trip to Morocco to surf.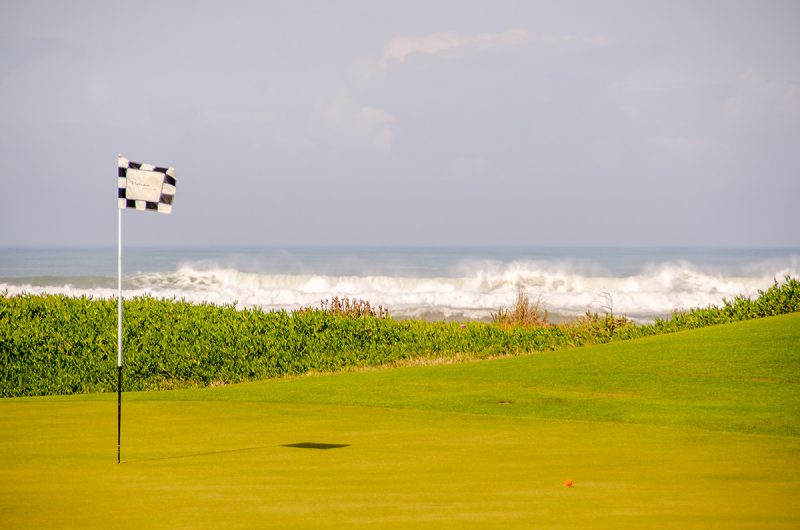 The course is very fun to play, and not so difficult that it demoralizes you.
Final Thoughts
Think outside of North America.
Casablanca, Morocco is a 6.5 hour flight from JFK Airport in New York. From there it's not a long drive to Mazagan. Rather than traveling in the USA or to Mexico for your next golf trip, you could be in fabulous Morocco enjoying a 5-Star resort, great food, beach, surfing, gaming, lodging, and golf at Mazagan.