Written by:
Tony Korologos
|
Date:
Tuesday, May 12th, 2015
Categories:
Boneheads
•
Golf Babes
•
PGA Tour
•
Pro Golf
Tags:
Rickie Fowler
---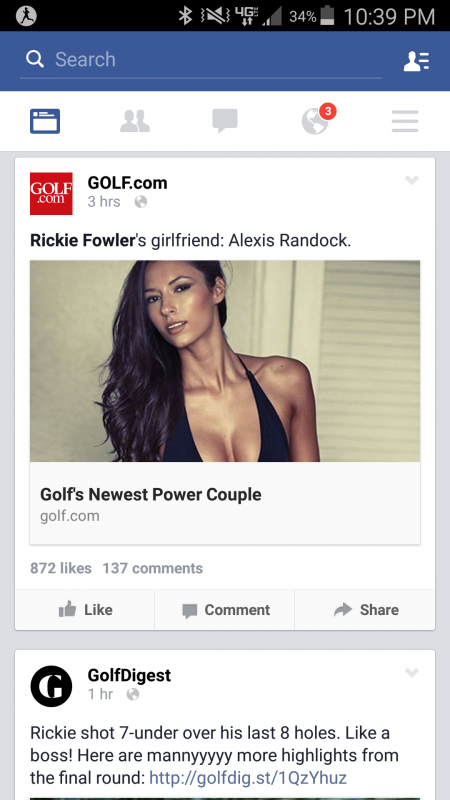 I took a five day weekend to do some great hiking and playing in the red rock country of southern Utah this past weekend. I didn't have a lot of internet access, but I did have the occasional update. One such update came through on several of my social networks about Rickie Fowler's dramatic victory at THE PLAYERS (always spell that in ALL CAPS, it's what they do). Nice playing Rickie.
I got far more updates about Rickie Fowler's girlfriend Alexis Randock though, many from Golf.com. Golf.com (and several others like Golf Magazine) just can't resist posting T&A anymore. It's like clockwork. They barely need any relevant reason to post this garbage, which made me think… Yeah that's a first.  They barely need any excuse to post T&A click bait, hot wives and girlfriends (WAG), or hottest women in golf.  It's all crap.
What does it take to trigger a WAG post?  Here are a few of the best excuses Golf.com has for posting T&A:
The sun came up
The sun went down
A bear shit in the woods
PGA Tour player "x" has hot girlfriend or wife
The featured "model" lives on the same continent as a golf course
Yoga pants
30 seconds since the last T&A "article"
The current day of the week ends in "y"
Boobs!
Just looked at their Google analytics and realized nobody gives a rat's ass about fixing their slice but they LOVE BOOBS!
Interns know how to repost sexy Instagram photos but don't know how to write golf articles
Advertising clicks and revenue are the end-all factor, and BOOBS are the easiest sell!  Who cares about being classy?
Boobs!
Thank God for Alexis Randock.  With Paulina Gretzky having had a baby and out of the limelight, and with other hot women in golf or WAGS like Lindsey Vonn and Amanda Dufner leaving the game, Golf.com was in trouble.  Thankfully they have a new set of breasts to suckle up to.