Written by:
Tony Korologos
|
Date:
Wednesday, January 2nd, 2013
Categories:
Miscellaneous
•
PGA Tour
•
Rory McIlory
•
Site News
---
Welcome to the third and final segment of the Hooked On Golf Blog Year in Review for 2012.  In this piece I'm highlighting a few blog posts from each of the final three months of 2012 as I've done in the HOG YIR 1 and HOG YIR 2.  You can click the heading of the month to see that month's archives, or the links within each summary.
The biggest news of the YEAR for me was the birth of my son Seve Anthony.  Yes, his name was inspired by Seve Ballesteros.  Little Seve has been nothing but a joy.  SO thankful.
A shark fell from the sky onto a golf course, and it wasn't Greg Norman.
Rumors started circulating that Rory McIlory was moving to Nike golf equipment.  There's an announcement coming from Nike on January 7th.
TaylorMade announced their new RocketBladez clubs.
HOG ran a Facebook contest which awarded some cool shirts to the winners.
Oh yeah, I commented on the USA Ryder Cup team's meltdown at Medinah.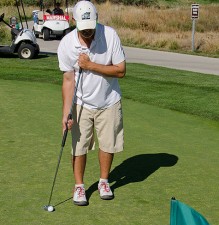 November 2012 – 21 Posts
Huge news in November. Golf's governing bodies, the USA and R&A, banned anchored putting.
Heated debates raged over changes being made to the Old Course at St. Andrews.  Too late.  The changes were already happening.
I reviewed an awesome HEATED golf rain jacket.  Battery included.
On a sad note, I lost a golf buddy who I'd played 100's of rounds of golf with.  RIP Dave Shields.
I was featured, with weak short game, on PGA.com's Free Lesson Friday.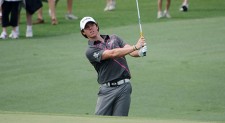 December 2012 – 26 Posts
The long awaited Hooked On Golf Blog Golf Turkey of the Year Awards posted on 12/3.
Miguel Angel Jimenez, the wine drinking-cigar smoking golfer from the European Tour, broke a leg skiing.  Fortunately the cigar made it unscathed.
The weather turned bad here. Snow. Won't golf locally for likely a few months.
Tom Watson was named as the 2014 Ryder Cup USA team captain.
I reviewed one of the sweetest wedges in the universe, the New Wedge Series by Miura Golf.  Then I interviewed Miura's President Adam Barr.
No big surprise, Rory McIlory was named PGA Tour Player of the Year.
The last and final Q-School EVER, graduated to the PGA Tour.