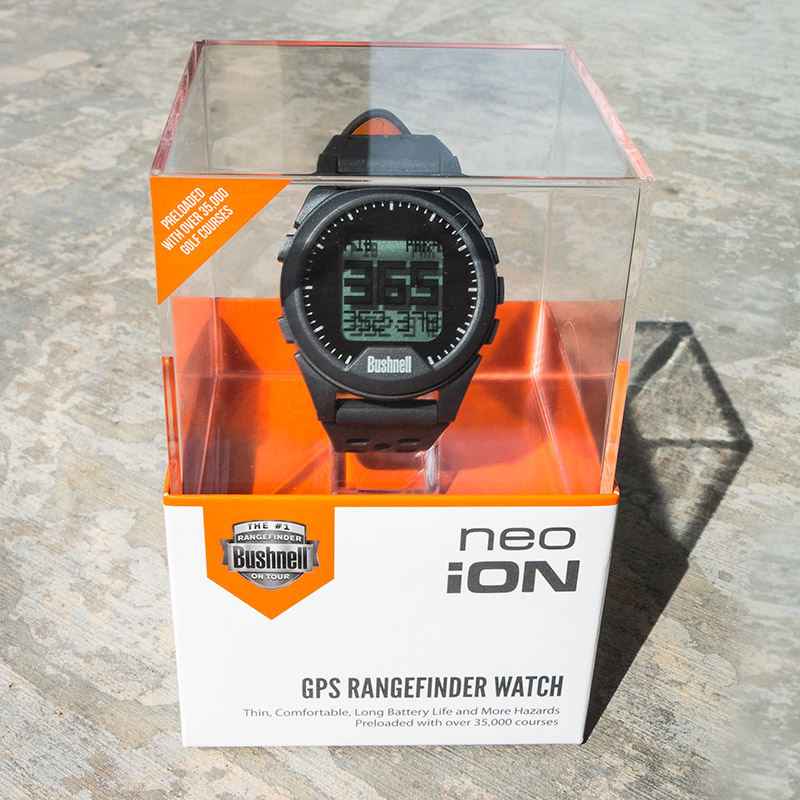 Written by:
Tony Korologos
|
Date:
Tuesday, June 14th, 2016
Categories:
Golf Accessories
•
Golf Gear
•
Reviews
Tags:
Bushnell Golf
•
Golf GPS
•
Golf GPS Watch
•
GPS
---
Golf GPS rangefinder watch technology is improving. No longer does the golfer have to wear a ridiculously large device to have GPS yardages and other great features on his or her wrist. Case in point is the new Bushnell neo iON GPS rangefinder watch. Let's take a look.
In the photo above I'm either playing a really short par-5 and I'm on the tee, or I just duffed my drive and did the walk of shame 50 yards forward from the tee. Take your pick. But the display does give a good example of the core information I need when approaching a green, the front yardage, middle yardage, and back yardage. Here's a list of all the basic features of the Bushnell neo iON GPS Rangefinder Watch:
One button operation
Auto course recognition
Auto hole advance
Calculates shot distances
Up to four hazard or layup distances per hole
Pedometer
Odometer
Extended battery life
Over 35,000 preloaded courses
On The Course
One of the most irritating things about many golf GPS devices, watch or others, is the amount of time it takes them to recognize what course they are on. In fact, some of the GPS units I use never find the course.  This unit finds the course very quickly and does not lose it.
During the round the yardages are solid and quick.  I've confirmed them with markers on the ground and via laser.  Rock solid.  Sometimes it's better to think about the front or back yardages of the green.  Say you have a green with a false front which repels shots.  Knowing the right number to avoid that spot is a great advantage.  The same goes with pins that are long.  If the green has a bad drop behind it or deep rough, long is dead.  Knowing these yardages arms the player with great information for a better approach strategy.
The pedometer is a very cool feature.  My phone has one, but it isn't as accurate, and it drains the battery badly.  Knowing how many miles I've walked is also great.  A 7,000 yard course may calculate out to four miles, but the walk can be double that or more.  After all, the golfer doesn't hit straight shots.  Left. Right. Left. Right.  You get the drill.
Another great bit of information the unit provides is shot distances.  One may "think" their 9-iron goes 140 yards when in reality it goes 132.  Knowing exact yardages, and accepting what they really are, will save strokes.  If only I could teach myself to accept them… That's another discussion.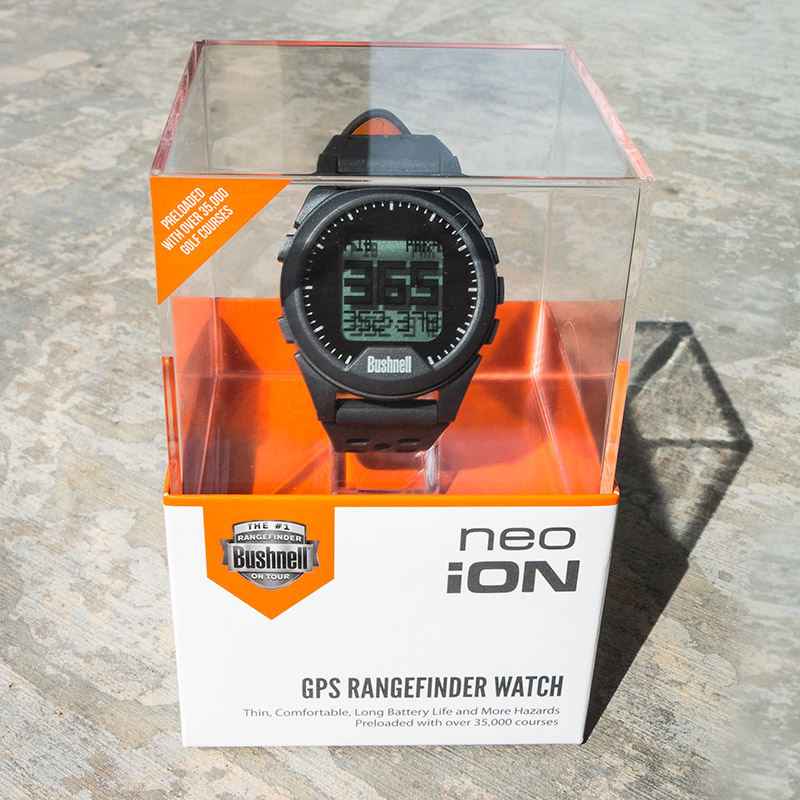 The battery life of the iON is great.  I've squeezed two full rounds out of a unit before charging.  I think I could have gotten more out of it but wanted to be sure I had a full 18 for my next round.
Critiques
I have the same critique for this unit which I have for 99% of the golf GPS watches I've reviewed, the proprietary charging cable.  Why is it so hard for companies to put a standard micro USB plug on these units?  That way one could charge it with a standard cable should he/she forget to bring the proprietary one.
The other issue I have with GPS watches is the fact that they are watches.  I'm not a watch wearer and I find them especially uncomfortable in the golf swing.  So I usually attach them to my golf bag.  It would be nice if the unit could be stand alone, without the band.
Conclusion
Though it retails for $199.00, I've found this golf GPS watch on sale at Amazon for only $149.00.  Considering all the features and performance this is a great deal.
Father's Day is coming up later this week.  Dad would love one.