Written by:
Tony Korologos
|
Date:
Wednesday, February 17th, 2016
Categories:
Golf
•
Hackers
---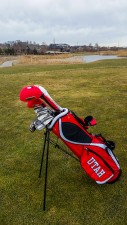 We have a mini heat wave right now in northern Utah with the temperature spiking to 64 degrees today. It has been a brutal winter, with more snow this year than at least the last 4-5 years.  We've been buried.  The skiers love it, as they should.
One of my home courses, River Oaks, opened for play a couple of days ago.  With the snow having just melted off, the ground is still muddy and there's goose crap everywhere.  The grass is dormant and the greens slow and bumpy.  Still after 95 days it was nice to simply get away from the office, the desk, the keyboard, the mouse, the code writing… and walk 12 holes in the outdoors.
I'm attempting to approach the game different this year, focusing more on enjoying the experience than the scores or the handicap.  I'm not sure how much mental strength I have to do that or how long that attitude might last, but that's the goal, to rediscover golf.  I soured on the game a bit last year.
As expected I was a bit rusty but did manage to make a couple of birdies in 12 holes, and knocked one tee shot on the par-3 3rd to about four feet.  I have some kind of game which is better than the average hack, if not just because I was a professional drummer for decades and I have killer eye-hand coordination.  It certainly isn't because of raw golf talent or having a naturally beautiful golf swing, because those things I do not possess.
It was nice to get out and whack the white spheroid around with a long time buddy, and to meet a couple of other players along the way.
So far my quest to rediscover golf is on track. I didn't quit the game on my first round of the year and I intend to play at least another round.  It's a start.