Written by:
Tony Korologos
|
Date:
Tuesday, August 6th, 2013
Categories:
Golf Books
•
Reviews
---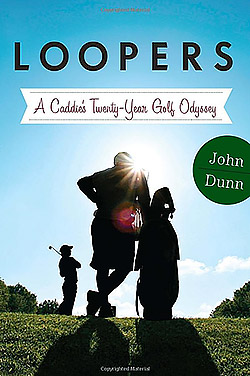 I was enjoying the book Loopers: A Caddie's Twenty-Year Golf Odyssey
 while doing a ton of golf travel in July.  I didn't realize how much I was enjoying the book until I lost it.  On my return from the Hooked On Golf Blog World Tour stop in Los Cabos, Mexico, I thought I'd left the book on the plane.  I was at a crucial part of the book too, right when John Dunn, the world's most traveled golf caddie gypsy, arrived in Bandon Dunes.  Big bummer.
I was going nuts, wanting to know how the book ended.  I decided that I'd have to contact the publisher who sent the book in for review to at least get a PDF version of the last couple chapters.  I even thought of contacting John Dunn directly, but I figured that would be tough because he was probably hitchhiking through Death Valley or someplace nutty like that, between two caddying gigs.
Then I found it.
I'd put the book in my backpack on the way back from Mehico, inside the laptop section, which is sort of hidden.  I was thrilled.  So I grabbed a glass of vino and headed for the back porch to finish it off.  Like the last caddie book I read by Oliver Horovitz, An American Caddie in St. Andrews, the book ended with me in tears.
Gypsy
When I do golf course reviews or golf travel articles, I tell the whole story.  But golf books, especially non-fiction titles like this one, I can't.  I don't want to give the story away.
In short, Loopers is the story of a John Dunn.  He has to be golf's most traveled caddie gypsy.  Dunn has caddied all over the country the last 20+ years, even in Scotland.  Most of the time Dunn made his way around without having a car or in many instances a place to sleep.  What an intersting life.  I'd love to be in a situation where the only possession I have to worry about is my golf clubs.  No car payment.  No insurance.  No mortgage.  No obligations, except to the game of golf.
I'd bet John's story continues even now.  I wonder where he is?
John, if you pass through Utah again look me up.  I have a spare bedroom.  You can crash here if you need to.
Conclusion
Loopers is a fascinating inside story about the life of a nomadic caddie.
Buy It
To purchase John's book click the photo or this link: Loopers: A Caddie's Twenty-Year Golf Odyssey
.