Written by:
Tony Korologos
|
Date:
Tuesday, October 23rd, 2012
Categories:
European Tour
•
Golf
•
PGA Tour
•
Pro Golf
•
Rory McIlory
---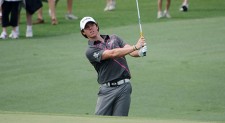 Rumors are starting to float around that Titleist player Rory McIlory, whose endorsement contract ends at the end of 2012, will be dawning the Nike swoosh.  Estimates range from $20-25 million per year for a 10 year deal for the world's #1 golfer.  That's up to $250 million for those of you counting at home.
Nike has freed up a little extra cash after dumping Lance Armstrong.
McIlory fielded questions about the deal in Shanghai, where he is attempting to lock up the European Tour's money title:
"I have my management company deal with endorsements and everything like that. I'm just here to concentrate on golf this week, and I've got enough to think about trying to get that ball in the hole. So no further comment on that.  These rumors have been going around for years, and it seems to always come up at this time of year." ~Rory McIlory
Sounds like he's approaching the situation in a proper manner.