Written by:
Tony Korologos
|
Date:
Friday, October 7th, 2011
Categories:
Golf
•
Miscellaneous
•
Pro Golf
---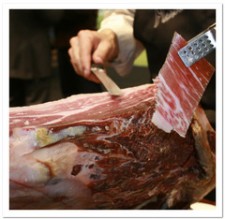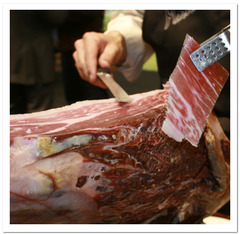 This is a funny story.
In Madrid Spain at the Madrid Masters, Scottish golfer Elliott Saltman recorded an ace on the par-3 third hole at El Enchin Golf Hotel.
So did he win a Mercedes?  A BMW?  Some other brand of new car?
NO.
Mr. Saltman (ironic pun) is the proud owner of a delectable hole in one prize, his body weight in heavily cured and salted Iberico ham.  And that isn't a small ham either.  Saltman weighs in at 240 pounds.  The Iberico ham Saltman claimed is a delicacy in Spain, and 240lbs worth comes in at a price tag of $10,722.
"This is going to last me until next Christmas, never mind this one. I've been trying to lose some weight but I'm glad now I've not lost that much."
It remains to be seen if Saltman can make the cut in the Madrid Masters after an opening round 75, but he'll still be bringing home the bacon.