Written by:
megangolf |
Date:
Wednesday, July 5th, 2006
Categories:
European Tour
•
Golf For Women
•
LPGA Tour
---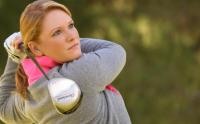 The drive to Hammond, Indiana from Lima, Ohio was short and sweet. I took Monday off and relaxed. I did my usual check-in to the hotel, went to find out where the golf course was, and checked out the town. I actually went and saw Click, the movie starring Adam Sandler. I loved it! I found myself laughing out loud and yes I'll admit trying to fight back a couple tears too. But overall it's a great movie and I recommend it to everyone.
Winds for windsurfers, not golfers
For the first day of the tournament I shot 78. I have no excuses, I just played poorly. My driver was giving me trouble all day. I only hit 2 fairways that day which makes it difficult to stay focused and keep grinding for pars. On Friday the wind started blowing first thing in the morning. I had the second tee time of the day which come to find out later that afternoon was an advantage. The wind really picked up about the 5th hole and then made the golf course almost impossible to play on the last nine holes, with winds up to 30 miles per hour. With the wind blowing across the hole, it forced you to start shots so far right or left of your target that it was extremely uncomfortable. The golf course was challenging enough with narrow fairways, a lot of water and extremely undulated greens that the wind just tested your sanity, and especially your patience.

Happy to be out there on Sunday
I thought that walking away with another 78 would keep me from playing on Sunday but because of the wind and the impossible playing conditions, the scores were through the roof in the afternoon and I actually made the cut! I couldn't believe it! So all day on Sunday I was just happy to be out there playing and came in with a 74. I played great all day. I hit a lot more fairways and made some putts. Unfortunately on the last hole of the day my first two shots got caught up in the rough and I wound up with a double bogey. It was disappointing of course but I can't forget about how great I played during the other 17 holes.
A well deserved rest
I am really enjoying my time off, back at home in L.A. I had a great time celebrating the 4th with a barbecue and fireworks with my friends. I love being home but also love being out on the road seeing new places and meeting new people. I am really looking forward to my next stretch of events on the East Coast. I have already scheduled to meet with friends and see some concerts during my week off at the end of the month. Then I am back at home getting ready for the LPGA qualifying school.
Next week, Connecticut.
Cheers,
Megan Heckeroth