Written by:
megangolf |
Date:
Wednesday, June 21st, 2006
Categories:
European Tour
•
Golf For Women
•
Golf Instruction
•
LPGA Tour
---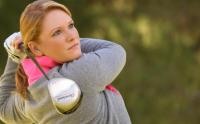 I flew into Chicago, picked up my rental car and drove a couple hours south to Decatur. On the drive down, I realized that the fire flies were out thick that night. I could see them glowing all over the corn fields and on the side of the road. I actually pulled off the side of the road to get a better look, and realized that I was in the middle of acres and acres of corn fields. The fire flies were everywhere. There were literally thousands of them hovering just over the tops of the fields, sparkling as far as I could see. It was beautiful. Since I have never even seen one single fire fly, this was one of the most amazing things I have ever observed. It was a nice introduction to Illinois.
Cubs & Blues
I played a practice round the next morning and got some putting practice in afterward. Then I was off to Chicago airport again to pick up Andy who was caddying for me this week. From there, we took the L train downtown to Wrigley field and went to a Cubs game. They were playing the Astros. Unfortunatley the cubs lost 5 to 4 but Andy and I had a great time. Experiencing Wrigley field is something to always remember. Afterwards, we enjoyed the free Blues Festival in the park. It was a lot of fun. The Band was great! We just sat there and enjoyed some blues and beer for a couple hours.
This game is so funny
I shot 72 Thursday and missed a few putts to shoot 75 the second day and made the cut right on the number. I felt like I hit the ball great with everything, but this week I struggled with my putting, missing a few short ones and getting a lot of looks from within 15 feet that just never found the bottom of the cup.
This game is so funny. Just a few days earlier when I was playing in the Open qualifier I was hitting the ball terribly and making everything I looked at. This week it was the complete opposite. I am still staying patient and waiting for it all to come together. It is easier to stay patient also because I know it will happen eventually.
I made a phone call to Doctor Parent and talked about the weekend and got a couple different strategies. Doc always seems to put things into perspective and always helps me feel better about everything that's going on.
This is a great job!
This morning when I was helping myself to the continental breakfast, I heard the man next to me say "good morning!" I looked up and he had a huge grin on his face, and I said good morning back. He asked "are you dressed for work?" Obviously I had my golf clothes on. I of course said yes and then he said "you have a great job!" He just made my day a little brighter.
Next tournament, in Lima, OH.
Cheers,
Megan Heckeroth
On a very sad note: "Duramed FUTURES Tour player Gaelle Truet of Noumea, New Caledonia died in a car accident Sunday afternoon. The third-year, 27-year-old pro was driving from last week's tournament in Decatur, Ill., to the next event in Lima, Ohio, on eastbound I-74 when her car lost control on the wet surface, veered across the median and collided with a westbound tractor trailer. My heart goes out to her parents, Remy & Madeleine, her twin brother Loic, and her entire family.
See futurestour.com for the press release.