Written by:
Tony Korologos
|
Date:
Monday, October 10th, 2005
Categories:
Golf Clubs
•
Reviews
---

I'm writing this review this morning in slightly different conditions than normal. All night last night it rained extremely hard. My house is engulfed in clouds and the power just went out. I still have some warm coffee in the coffee pot and I have a fire going. I'm running on battery power in my laptop.
Taylormade's Original Rescue Hybrid has been extremely popular, and many companies have followed suit releasing hybrid clubs. The hybrid has been the hottest golf concept for the last couple of years. (Even though the actual concept has been around for decades). Golfers left and right are leaving their long irons in the garage and replacing them with hybrids.
Enter the new Rescue Dual with the TM Movable weight system, which is found on the r7, Monza Corza Putter and some r5 series clubs. The Rescue Dual has an italic T shaped sole plate with the two movable weights toward the outer rear of the club. As discussed in my previous reviews of TM's movable weight system, you can configure the club for neutral, draw or fade bias.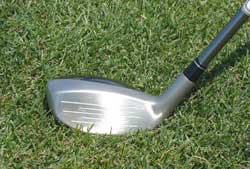 Looks and feel
The Dual just plain looks easy to hit when you're standing over it. Seeing a little more loft and club face surface than a 3-iron visually helps. Compared to other hybrids I own, the shaft on the dual is shorter. This will perhaps make you lose a couple of yards, but it will give you a little more confidence and make the club easier to hit.
The head cover is an issue I love to cover on hybrids, woods and putters. Many other reviews don't mention the head cover but it it something you deal with constantly. If the head cover is poorly designed it can irritate you during your round.
No worries with the Dual's head cover though. It is simple and does the job perfectly.
Spec it out
The Dual is available in Stiff or Regular T-STEP ULTRALITE steel shafts. If graphite is your preference TM's HYBRID 65 shaft comes in S, R, M and L flexes.
The lofts available in the dual are 16, 19, 22 and 25 degrees. Swing weight in all configurations is a D3. Shaft lengths vary from 39-41 inches depending on the loft of the club.
The grip: TaylorMade TGT. I prefer a softer grip than the stock TGT, so I changed to a Wynn W5 which worked much better for me.
On the course
When I first tried my dual, it was set for a draw bias from the factory. Though I hit it solidly the first few times, I was pulling, hooking or hitting hard high draws. The weight setup along with the club face appearing to be slightly closed must have been the reason. I moved the weights from draw bias to fade and I've been loving it ever since.
My 19 degree Dual has been a great club for reaching par 5's in two when a 3-wood is too much and a 4-iron is not enough. I'm able to carry the ball anywhere from 210-240 yards and the ball flight is nice and high. The flight looks like a 5 or 6 iron in the air, but flies as far as a 3 or 2-iron for me. Your distances may vary as I found out playing with a +2 bomber the other day. He was launching his Dual about 20 yards farther than my driver. I was amazed. But I'm getting off track…
Off the tee this club is extremely easy to hit. This can be your "go to" club if you need to keep the ball in the fairway. In the rough I'm able to dig out long high shots much easier than if I were to try to use a long iron. It is almost like cheating!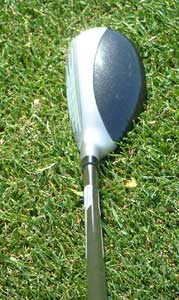 Issues?
I only have a few issues or questions with the Dual:
1. The Dual club face seems to be closed slightly, presumably to prevent your average Joe golfer from slicing. For me this is a problem. I sometimes end up pulling or hooking with that closed face. I just need to make sure I don't get too frisky with my draw and I don't have a problem. I presume that the TP version of this club is more square and I'd bet that version of the club would be better for me since I own two other TP models and I love them.
2. I'm not necessarily a bad long iron player. I miss some of the shots I used to be able to create with my now dust collecting 3-iron. Let's say you're 20 yards behind a tree and you need to hit a low runner under it, and you need as much yardage as possible. Without having a 3-iron I'm forced to go with a de-lofted 4-iron. Note quite as effective.
Sometimes I have a trouble shot I'd need to hit a massive hook or cut around some trees with my 3-iron. I'm not able to do this as easily with any hybrid. The less loft the club has, the easier it is to work the ball. Since hybrids have more loft than long irons, those types of ball curves are harder to produce.
I also miss being able to play that low punch or stinger shot. In extremely windy conditions I may opt to put the Dual in the garage and go with the 3-iron to bring that shot back into my bag.
Conclusion
The TM Dual Hybrid is an extremely well designed and well built club. The performance is top notch. The Dual will turn those scary long iron shots into shots you can now confidently strike. This club can be your new "go-to" club and will certainly make the game more enjoyable.