Written by:
Tony Korologos
|
Date:
Monday, September 5th, 2005
Categories:
Web.com Tour
---
I'm still living on the #17 hole at my local club River Oaks. I'm here for about another 8-14 days when I move into my new house. My men's league here at RO has a year long match play tournament and I had arranged a match today at 3pm.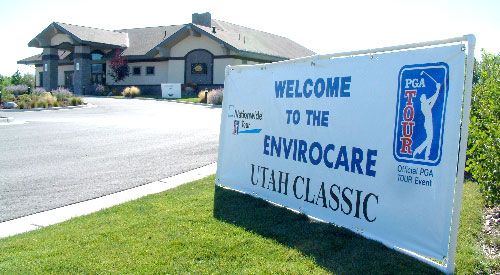 When I got to the course I found out that my match would have to wait until the Nationwide Tour got off the course! The Nationwide Tour is in town for the Envirocare Utah Classic, at a country club down the street. But the country club wouldn't let them play their pro-am today due to the holiday. So they moved the pro-am to my home course! One Hooked on Golf Blog's resident PGA pros, Guy Lester, actually got to play today! I'll make sure we get a report from him.
I hung out there a bit today and hit some balls on the range, and stopped the Nationwide Tour players as they went by during their round. They were all very cool and I asked them about the tour, their standings on the money list, where they were from etc.
I talked to Gabriel Hjertstedt. I told him about the golf blog and he thought that was cool. I got some info from him about where he lives, and what place he is on the money list (125) etc. He was very nice and told me to make sure I'd come to the real tournament this weekend. I assured him that I already had my tickets.
I do plan to make a report or two and post some pictures from the Nationwide Tour Envirocare Classic this weekend so stay tuned.

By the way, I won the match tonight…