Written by:
Tony Korologos
|
Date:
Wednesday, August 3rd, 2005
Categories:
Champions Tour
•
Miscellaneous
•
PGA Tour
---
(This post is one of an ongoing series about my experience at The Champion's Challenge)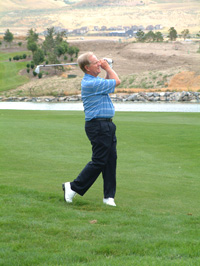 OK, I've had a day to recover from having one of my life long dreams realized: Meeting Jack.
Here's the story…
This event was a pretty casual one, hosted by Johnny Miller at Thanksgiving Point. It marked the 2nd time I've watched Jack play. The first was a Senior Tour event where he was paired up with Arnold Palmer & Lee Trevino. Anyway, this event was a pro-am (what I call "hit and giggle") and the play was terribly slow. So there was a ton of waiting on the tee shots and waiting on the 2nd shots on par 5's and 4's.
We got there early to see some of the pros on the range and putting green. We found all the pro's carts (yes, they were riding) and bags. All the carts had bags on them but Jack's. I stood right by Jack's cart hoping to get an autograph before he teed off. But right before the shotgun time, someone drove his cart away. He was hiding somewhere else…
The tourney started and we found out that Jack started on the 11th hole. So my 3 kids and I headed toward the 11th. We caught Jack teeing off on the 12th hole of this unbelievably long course (over 7700 yards). The shot you see here of his finish is his approach on that par 4. Naturally his shot ended up about 12 feet over the flag where he made the birdie putt.
On the next hole there was a wait. The gallery wasn't very big because we were a long way from the clubhouse and the tourney had just started. This course is not set up well for getting from hole to hole as a gallery. That made it a nice small gallery of 10-15 people and the man, Jack. During all these waits Jack was very cool. He made lots of nice small talk and had conversations with lots of people, including me and my two kids (the other kid was missing by this time, story in another post).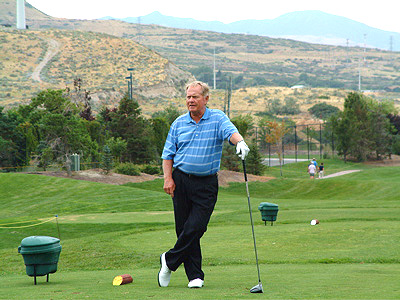 Someone went up and asked for an autograph while we were waiting for them to tee off and he said he wasn't doing autographs 'til later. But he did say pictures were OK. So I jumped up there, had some light conversation with Jack and got the pic you see in this post. Jack was cool about the pic too. My 11 year old daughter was taking the pic and Jack was directing her how to aim the camera. Then he told her she may have shaken the camera so he had her take two more shots! I was so nervous and excited all I could say was "thank you sir."
What's in Jacks bag?
While there on that tee box I was checking out Jack's bag. I should have taken a pic of it but I had a brain cramp and didn't. I checked out his clubs, all Nicklaus brand of course. He had an interesting selection of clubs. He had a driver, 3 fairway woods, his irons were full on blades in 2-PW, and a putter. He had no other wedges at all. No sand wedge, lob wedge etc. No hybrids or anything funky either. He had a laser range finder hanging on the side. Perhaps the coolest part of Jack's bag was the one and only bag tag he had on it, from St. Andrews.
I reached over and put my hand on Jacks 4 iron. I touched Jack's 4 iron. I touched Jack's 4 iron. I have the magic. I have the magic.
We then took off to experience some of the other pros and sights of the event which I'll cover in other posts…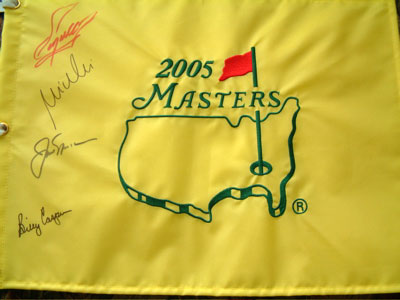 We got back to Jack on the 18th green where there were thousands of fans. He knocked his shot on the green and two putted for a par. The audience swarmed him and he broke down and started doing some autographs.
I headed over to the #1 tee, being a little smarter than the rest of the crowd. I perched myself directly behind the tee in the prime position. Jack and his caddy (son) arrived and there was a long wait. So they snarfed down their lunch by the tee. What does Jack Nicklaus, the greatest golfer ever, eat for lunch? A greasy hamburger.
He nailed his drive on #1 right down the middle, and long. I hung around the tee there looking for my kids but they were nowhere to be found. I stuck around there long enough to watch Mike Nicklaus, one of Jack's sons tee off. He played this 379 yard par 4 from the back tees. He launched a driver like none I've ever seen before. It was as pure a golf shot as I've ever seen. The ball exploded off the club and flew high in the air and nearly made the green. How a kid who hits a ball like that can't make it on tour is beyond me. But it's not all about the long ball.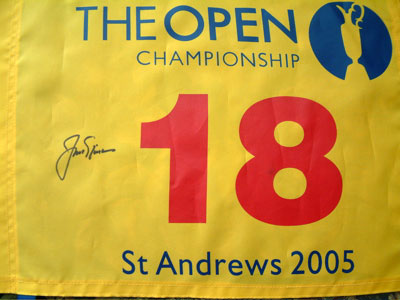 My kids had already gotten started down the 1st fairway ahead of me and it took me until the 1st green before I saw my boy. I had just started getting mad at him for going too far ahead and he showed me that he'd already gotten Jack's autograph on the tournament program. No problem son! I was so happy he got the autograph, but bummed he didn't sign one of the flags or Masters golf balls that I brought just for him.
The next hole was a par 5 and the wait was terrible. There were 3 groups on the tee. These "hit and giggle" events must drive pros crazy.
I had my Masters and St. Andrews flags ready green side. My 11 year old daughter parked herself just in the right place by the green to get an autograph. The problem was that Jack went the other way! My daughter sprinted up a hill and ran Jack down! He signed the St. Andrews flag and I was very happy about that. Then I got to him and got my Masters flag signed. Whew. Relief.
There was a funny guy there who had a Titleist golf ball tattooed on his arm. He was bragging about it and showing the gallery. He had told me that Arnold Palmer signed his arm. That's a funny place to get an autograph. So he had Jack do the same thing (see pic). Jack commented that he'd never signed a tattoo before.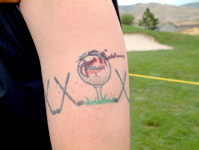 All photos by Tony Korologos. If you wish to use them, please give appropriate credit and a link back to this blog.