Written by:
Tony Korologos
|
Date:
Tuesday, August 2nd, 2005
Categories:
Champions Tour
•
Miscellaneous
---
(This post is one of an ongoing series about my experience at The Champion's Challenge)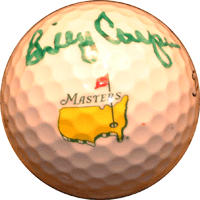 After checking out all the golf carts and their players' bags I went back up by the clubhouse. I was hanging out by Jack's cart hoping to get an autograph when Billy Casper walked by. I stopped him and asked him for an autograph on my Masters Flag. He said he was trying to find his cart.
He was a funny, salty old chap and I made a proposition. I knew where his cart was, and he might be walking around for a while before he found it. So I told him I'd show him to his cart IF he signed my Masters flag… "Son, you have a deal."
While guiding Billy to his cart many fans and other golfers kept stopping him to chat. When he'd finish his chat he'd ask where his guide was. I'd catch his attention and wave him in the right direction.
Finally I got Billy to his cart and he was thankful. He then autographed my Masters flag and a Masters ball.
Thanks Billy, glad to be of service!