Written by:
Tony Korologos
|
Date:
Thursday, June 16th, 2005
Categories:
Golf Media
•
PGA Tour
---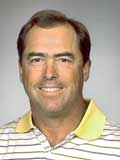 Do you know this face? Neither do I. It's the face of Olin Browne, the leader after round 1 of the 2005 US Open. He's tied with more well known Rocco Mediate at -3. At -2 you have Lee Westwood, Brandt Jobe (who's been playing well lately), KJ Choi and '96 champion Steve Jones. I honestly don't think come Sunday any of these players will be in the hunt.
Notables: Tiger at Even par. Els, DiMarco, Furyk, Sergio and Freddy at +1.
Notables circling the drain: Duval at +6, DLIII at +7. Last place belongs to Paul Casey who shot a +15 85.
There hasn't been anything really surprising. The rough is just right. The greens were perhaps a little softer than your typical US Open. The usual "flash in the pan" players are at the top of the leaderboard but will disappear.
Jay Flemma my golf blogging buddy is on location there. He's getting a golf blogger's perspective from the media tent and the course so go check it out.
Johnny Miller had a good quote when talking about Spencer Levin's hot temper: "He makes Pat Perez look like he's on Prozac."
In the bad quote department Chris Bermin needs to stop with his terribly stupid "names" he gives to the players. This isn't sportscenter dude. Those dumb names you make up like "Roger Chocolate Malt-be" and "Fred Funk Railroad" don't really fly in golf. We don't think you are as funny as you think you are. Why do we have these ESPN hacks doing golf anyway? Are they bringing in the "big guns" because it's the US Open? Give me a break.