Written by:
Tony Korologos
|
Date:
Tuesday, May 17th, 2005
Categories:
Champions Tour
•
Golf Media
•
PGA Tour
---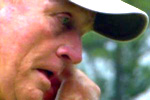 Jack Nicklaus has announced that his last competitive tournament round will be in the British Open at the birthplace of golf, St. Andrews. Jack won the Open at St. Andrews in 1970 and 1978. The Royal & Ancient Golf Club moved up St. Andrews in the Open rotation to give Jack the chance to play his favorite course one last time.
As a kid I always loved to watch Jack play and I always thought he was going to win. He was one of the constants in the universe. I was 17 years old when he won is last Masters in '86 and I remember watching that putt on 17 in amazement.
I had the chance at a Senior Tour (now Champions Tour) event to follow Trevino, Palmer and Jack for 18 holes. That was awesome. Jack and Arnie didn't talk much, but that was probably due to the fact that Trevino covered the talking department well enough for all 3 of them.
Jack is coming to my town in a couple of months to play in a local "event" here and I'm going to try my hardest to meet him and perhaps get him to autograph a piece of my Masters memorabilia.
Jack, thank you.