Written by:
Tony Korologos
|
Date:
Thursday, April 28th, 2005
Categories:
Golf Balls
•
Golf Equipment
•
Reviews
---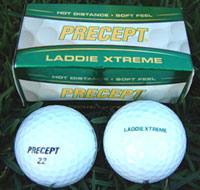 I'm beginning to wonder if there are any bad golf balls out there. As a religious ProV1 user for years I thought there was only one ball. But having this fun blog is forcing me to have to try some new equipment. Most of the balls I've tested are excellent, even the budget ones. Ain't technology great? Sorry Hootie.
I've seen Precept balls before. Never really hit them or bought a box at the pro shop. I'm still trying to figure out what the differences between Bridgestone, Precept and Brigestone Precept are. Are they not the same? (Actually Bridgestone is the Japanese side and Precept the American side).
So the local Bridgestone rep gave me some of these new Precept Laddie Extreme balls to try out. Since the balls were free I decided to try them on a very windy day at the tightest, most hazard ridden course I play.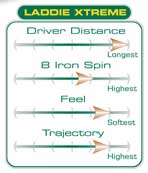 The first thing I noticed was that the ball didn't seem to be a "hard" ball. I just assumed these were distance balls because of their 2 piece construction. These balls, (like just about every ball on the market) are long off the driver. The Extreme also feels very nice off the irons. For me the key is the irons. Around the greens the Extreme has the right amount of spin, but not too much. And putting was equally nice.
These balls have 372 dimples which is a little less than the standard ball (a V1 has 392 and a V1X 332). The durability of the ball is excellent. These are much more durable than the HX Hour, One Black, ProV1 or the Hogan balls. Bridgestone says the Extremes don't "shear" but I did have one crack.
If you find it hard to rationalize paying $40-50-60 a dozen for golf balls the Laddie Extreme would be a good choice for you. For $20 you can get performance that will be comparable with balls that can cost 2-3x more.
My rating: 7.5/10
MSRP: $29 STREET: $20
Web site: http://www.preceptgolf.com/