Written by:
Tony Korologos
|
Date:
Saturday, December 10th, 2005
Categories:
Site News
---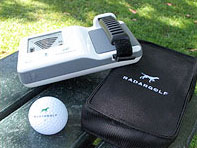 Radar Golf Ball Position System
You gotta get some toys for Christmas:
What a cool invention. The geniuses at Radar Golf have a ball with a micro chip in it which is trackable with their hand held radio transmitter. If you knock one in the crap, turn on your BPS and turn that lost ball into a found ball. Unfortunately the USGA doesn't approve…
And now the Radar Golf BPS is AVAILABLE!
Click here to ready my article with highlights of my interview of Radar Golf CEO Steve Harari.
Ready, sing!
On the first day of Christmas my true love gave to me…Maxfli Blackmax golf balls
On the 2nd day of Christmas my true love gave to me…Gimme A Ruling golf rules game
On the 3rd day of Christmas my true love gave to me…An Ogio Grom stand bag
On the 4th day of Christmas my true love gave to me…A lesson from a PGA pro
On the 5th day of Christmas my true love gave to me…Harvey Penick's Little Red Book
On the 6th day of Christmas my true love gave to me…An r7 Dual TP 3-wood
On the 7th day of Christmas my true love gave to me…Hi-Tec CDT golf shoes
On the 8th day of Christmas my true love gave to me…A Radar Golf BPS