Written by:
Tony Korologos
|
Date:
Thursday, September 29th, 2005
Categories:
Golf Accessories
•
Reviews
---


Yes, you read right…BAMBOO fiber.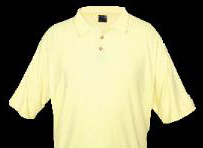 Imagine wearing a golf shirt that is as smooth as silk, is more durable, machine washable, breathes better and costs less that most regular golf shirts. All of this while using fabric that is made from a naturally replenish-able material which is also biodegradable. The Moseau bamboo fiber shirts are all of the above.
Moseau discovered the bamboo fiber innovation about 5 years ago while in China. They spent some time refining the manufacturing process and their time and research has paid off big time.
My experience with my Moseau golf shirt has been nothing short excellent. The shirt is extremely comfortable. I felt like I was wearing my Jammie's. I have a couple of silk shirts and the Moseau shirt is even more comfortable. In 100 degree heat the shirt breathes wonderfully. The fabric washes and irons well and it doesn't shrink as much as a typical cotton shirt after the first wash or two.
The Collection
The Moseau polo shirt collection consists of 6 different styles. 5 of the styles are solid colors and the 6th is a two tone. The shirts are simple and classy, with no crazy designs.
Moseau also makes three different styles of bamboo fiber golf socks: Crew, low cut and quarter socks.
A collection of seven bamboo golf t-shirts is also available.
You can buy any of the Moseau bamboo collection at their online store.