Written by:
Tony Korologos
|
Date:
Friday, July 8th, 2005
Categories:
Golf Instruction
•
Golf Media
•
Miscellaneous
•
Reviews
---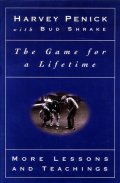 If you don't know who Harvey Penick is you are missing out. Harvey Penick is probably the most famous golf instructor of all time. For decades he was the instructor at Austin Country Club. Many of the most famous pros ever to play golf have studied with him (Tom Kite, Ben Crenshaw etc). If you recall Crenshaw's latest (and tearful) Masters victory, that was right after Penick passed away.
Harvey's most famous book is HARVEY PENICK'S LITTLE RED BOOK. For years Harvey jotted down short thoughts about golf and life in a little red note book… Golf, life (in that order). Hey wow. That wasn't intentional. There was no real order to his thoughts, they were just random thoughts put to paper in a journal form. If what he did in his book was on the net, it would be a blog.
Harvey's writing style is so great, you feel like he is there with you telling the stories.
While browsing Golf Blogger one day, I ordered The Plane Truth and for the hell of it picked up Harvey's Little Blue Book : Game for a Lifetime : More Lessons and Teachings.
I started reading last night when I was quite tired. But I woke right up and got about 100 pages into it before I forced myself to go to sleep. This book has more great stories and thoughts but they are a little longer and more detailed. There are many stories about specific players he taught worked with, along with some excellent golf course architecture thoughts and rants. (Jay).
I strongly recommend getting your hands on ANYTHING from Harvey Penick.