Written by:
Tony Korologos
|
Date:
Sunday, April 24th, 2005
Categories:
PGA Tour
---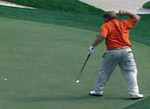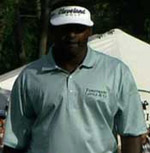 Chalk up a 2nd consecutive Houston Open for Vijay Singh. This is his first successful title defense on the PGA Tour believe it or not. This win didn't come easy as he had to weather a Nick Faldo like birdie-less string where no putts seemed to fall. He also had to fend of big John Daly my gambling buddy (see this post).
Daly carded a great 67 to land himself in a playoff with Singh which included a clutch putt on 18. (see picture) On the playoff hole JD hit a decent 3 wood but turned it over a little too much. It hit the hard and fast fairway and bounced into the water hazard on the left. All Singh had to do was par the first playoff hole to win, which he did.
It is fun to see Daly in the mix. He's such a freak. He isn't the prototypical PGA Tour player of today who works out in the gym every morning or spouts off the same old politically correct answers to the press' predictable questions. He's a recovering alcoholic who chain smokes, he's overweight and he's got more natural talent than 98% of the PGA Tour. He can shot a 65 just as easily as he can shoot a 90. This is what interests us fans.