Written by:
Tony Korologos
|
Date:
Sunday, September 30th, 2007
Categories:
European Tour
•
Golf Media
•
PGA Tour
•
Tiger Woods
---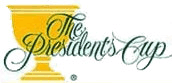 You'd better sit down and watch some golf today, or at least record it on your DVR.
NBC 12 p.m. ET – 6 p.m. ET
Tiger Woods is appearing for the last time until his Target World Challenge in December. Tiger will be playing my pal and neighbor Mike Weir in his singles match. Man, Tiger will be "Wal-Marting" Mike with his driver. (Wal-Marting is when you knock your drive so far past someone else that a Wal-Mart could fit between the two).
This is obviously NOT the Ryder Cup
The USA team has a huge lead going into today's singles matches (14.5 to 7.5), and barring a miracle, should cruise to a win. This is definitely not the Ryder Cup.