Written by:
Tony Korologos
|
Date:
Sunday, June 5th, 2005
Categories:
European Tour
•
LPGA Tour
•
Miscellaneous
•
PGA Tour
---
Unfortunately I was unable to actually watch golf at all this weekend because Comcast still hasn't gotten my subscriptions working yet. (see this post) Now they say tomorrow. I'm dying over here without my golf TV.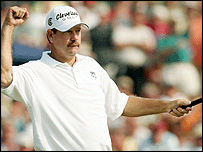 Bary Bryant sneaks up on the rest of the field to win the Memorial. What happened to Tiger, Sluman & Freddie? I told you Sluman wouldn't keep the lead….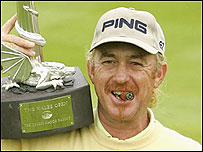 Miguel wins the Welsh Open. The coolest thing about that is that we get to see him hold the trophy with a big fat stogey in his mouth. What a great example eh?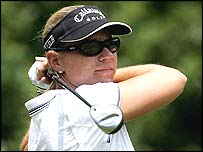 The most dominant golfer in the current era won another tournament. Gee what a surprise. At the ShopRite LPGA Classic she had a 1 shot lead going into the last hole. She eagled it just to remind the field that she was in control. Will someone on the LPGA Tour please step up and challenge Annika? Ochoa tried to challenger her but it was only a verbal challenge which she couldn't back up.
On the PGA Tour we have the "Big 5." On the LPGA Tour we have the "Big One."