Written by:
Tony Korologos
|
Date:
Sunday, September 4th, 2016
Categories:
Golf
Tags:
Royal Aberdeen
•
Scotland
---
I'm in Scotland withdrawal mode, and I may be until I return to that wonderful country. My motivation to play golf here at home is minimal at the moment.
While eating some reheated pizza for lunch today I decided to go through some of my photos from the last Scotland trip. They're one source of blog posting motivation I can still count on right now. Sure enough I found a fun little nugget to share, a funny sign I shot at Royal Aberdeen Golf Club in the northeast of Scotland. I often find golf signs to be funny, and strange. My collection of funny golf sign photos is getting pretty big.  Maybe I should put them all in a book.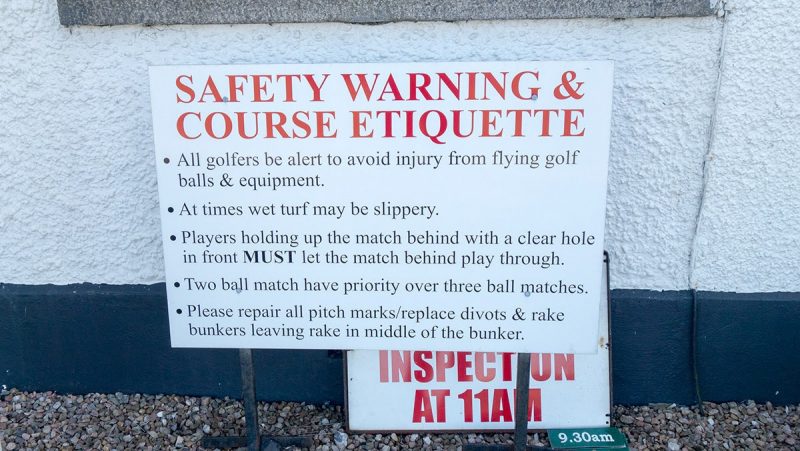 Did this one read to you like it did to me?
"All golfers be alert to avoid injury from flying golf balls & equipment."
And equipment?  What flying equipment other than golf balls?  There must be some club throwers there?  Maybe its golf bags.  Shoes perhaps.
Thanks for the laugh.  I loved playing Royal Aberdeen.  What a great place.  I'll post a review soon.