Written by:
Tony Korologos
|
Date:
Wednesday, October 28th, 2015
Categories:
Jordan Spieth
•
Miscellaneous
Tags:
Jordan Spieth
---
I don't normally post items from PR companies which are less newsworthy/informational and more advertorial in nature, but this registered high enough on my cool-o-meter to warrant posting.  It's a mosaic of Jordan Spieth which is on display at Main Street Gardens in downtown Dallas, TX.  Here's the video timelapse below of the constructions, and under that is some text describing it.
FROM AT&T:
Here are all the details about this unique work of art:

· The mosaic is of Jordan's likeness
· 24,152 golf balls are used (placed on tees) with the grass acting as negative space; a team of 25 individuals worked to set up the mosaic
· The golf balls will be donated to the Dallas chapter of The First Tee, as well as the Northern Texas PGA.
· There will be a national ad campaign congratulating Jordan with this mosaic across TV and print starting Nov. 4
· The mosaic will be open to the public for up-close viewing on Wed., Oct. 28 and Thurs., Oct. 29; deconstruction of the mosaic will take place that evening
· There is a viewing platform so that the public can see the mosaic from above

Since signing a multi-year deal with AT&T in May of 2014, Jordan has helped AT&T promote the dangers of distracted driving by appearing in an "It Can Wait" commercial that aired during the 2015 Masters. Jordan's golf bag also carries the AT&T logo. We're looking forward to a another great year in 2016 and more collaboration with this bright star on the TOUR.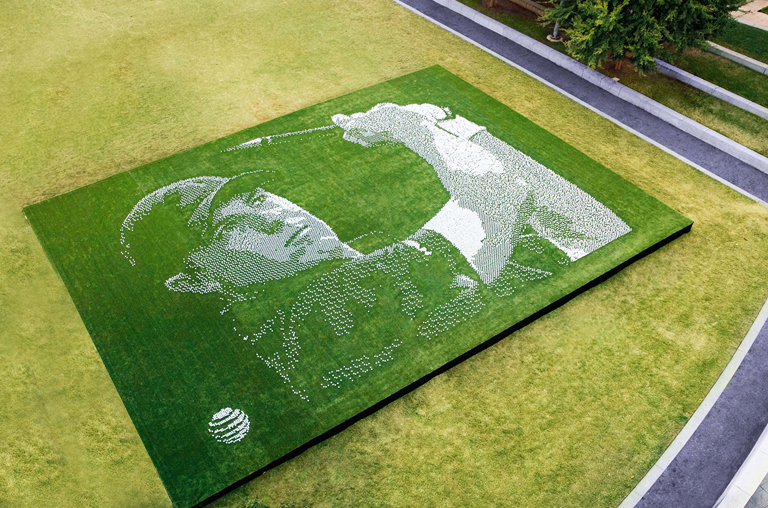 I wonder when AT&T is going to sponsor a Hooked On Golf Blog mosaic in a major city? #snubbedagain