Written by:
Tony Korologos
|
Date:
Sunday, March 23rd, 2014
Categories:
Golf Life
•
Hackers
•
Miscellaneous
---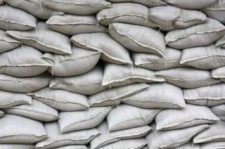 My pops knows that whenever he needs some new golf gear, I'll take care of him.  His old golf bag at his club, a cart bag, was hammered.  He needed a new one.  So I gave him a fantastic new bag which was complete with a large skull on it.  Perfect for a 77 year old country club type.  What a rebel.  I received this great email from him after he switched over to the new bag:
Just transferred golf items to new bag. Thank you for a much needed upgrade. Definitely need slim, slim club covers so clubs cam fit in slots. In transfer I discovered 28 ball markers, 12 pencils, 22 ball mark repair pools, 3 pairs of golf gloves (which I never use), $1.22 in small coins, 3 foreign coins, 33 golf balls in various stages of decomposition and — drum roll — 167 tees!! (After extensive search, no sand was found in my old bag!) p
That's the "what's in my dad's golf bag" post…  Definitely no sand in his bag.  He's a player.