Written by:
Tony Korologos
|
Date:
Wednesday, October 9th, 2013
Categories:
Boneheads
•
Miscellaneous
---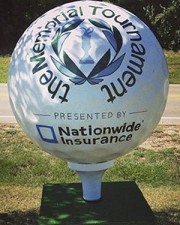 Someone stole a three by three foot, 200 pound golf ball sculpture from The Memorial golf tournament (pictured courtesy of the city of Dublin, OH).  The ball is a sculpture, one of several, which is on display until the 2014 Memorial tournament. The sculpture is one of 18 which were sold to sponsors.
The Memorial is offering the thief(s) a mulligan.  If they turn the 200 pound golf ball back, undamaged, by midnight Saturday, no questions will be asked.  Otherwise, the culprit will be subject to a $2,500 fine.
Questions
Is this golf ball longer off the tee?
Does the driver need to be bigger than 460cc's?
Is this a four piece ball with a gradational core and soft urethane cover?
Does the ball perform great around the greens and feel soft off the putter?
How big is the green repair tool needed for this ball?