Written by:
Tony Korologos
|
Date:
Wednesday, October 17th, 2012
Categories:
Golf
•
Miscellaneous
---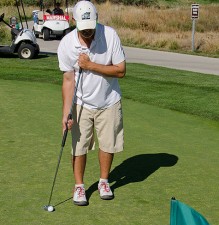 I read an article a day or two ago on Golf Channel stating that the USGA (United States Golf Association) plans to make a ruling on long/belly putters this year.  Personally I don't think it is the putters themselves which are the issue and I never have.  I think it is the way they are used.  Many years ago Sam Snead putted straddling the target line and that was made illegal.  I predict a similar outcome with "anchoring" putters.  This quote from the Golf Channel interview of USGA Executive Director Mike Davis is quite telling:
"If we make a change, again, if we make a change, it will be Jan. 1 of '16, and it would be a rules change. We wouldn't ban the long putter, we wouldn't ban the mid-length belly putter. We're looking at the type of stroke that is made." ~USGA Executive Director Mike Davis
There it is in black and white.  Long or belly putters themselves will not be banned.  The act of anchoring the putter to one's body, belly, chest, eyeball sockets etc., is what will be banned.  And WHEN that type of stroke is banned will be January 1st, 2016.  Come to think of it, the rule will likely not just include putters.  No club in the bag can be anchored to the body starting in 2016.  Mark it down.