Written by:
Tony Korologos
|
Date:
Wednesday, May 2nd, 2012
Categories:
Golf Media
•
Miscellaneous
•
PGA Tour
•
Pro Golf
•
Tiger Woods
---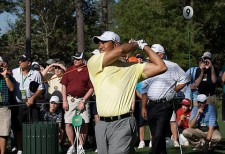 I've read several comments and a couple of articles regarding the video posted on Tiger Woods' web site this week.  Rather than doing a press conference before the Wells Fargo Championship at Quail Hollow, Woods did a fan question and answer video on his web site.
This particular video has elicited some interesting reactions from media and fans, both positive and negative.  The reactions expose the bias of the viewer.   The fans obviously like hearing the answers to their questions and the critics are saying that the questions are softball questions.  With anything regarding Tiger Woods there are the fans and the haters.  No doubt Tiger has become quite a polarizing figure.
Critics
I can see the logic for the critics, especially those critics in the media.  Their point is that by doing this format, Tiger's camp is filtering the questions.  They are right.  The questions are certainly filtered.  The media scribes must feel a little miffed because they're not getting to ask any questions.
Another critique about the video is the obvious product placement questions.  Yes, once again I agree.  It is quite obvious with the back to back questions about the Fuse drink and Nike Golf clubs.  Hardly a seamless insertion of PR there.
Fans
From a fan standpoint though, there are some interesting and informative comments from Tiger.  I find the answers about his game, what gear he uses in certain situations or tournaments and what he is working on to be interesting.
There are also several questions about Tiger's favorite shot, best putt etc.  From a fan perspective that stuff is interesting, though it is very softball.
Final Comments
This Q&A was far better than the first one, which had an odd ending which is up for interpretation (Tiger throwing paper and obviously excited to be done with the video).  Tiger's demeanor is much improved this time around.
I can feel the argument for the fans and critics on this one.  Fans are always going to love whatever TW does and the haters are always going to hate.
It is tacky to slip in those obvious product PR comments.
I'd say a few of camp TW's "goals" were accomplished with this video.  Those would include not having to deal with the media, not having to field questions they don't want to field, mentioning Tiger's sponsors and driving traffic to Tiger's web site.  I'd like to hope that another one of the goals is to connect better with fans, though some may criticize the way it is being done.  At least they're trying.  Tiger may need a few more reps on that, but it is getting better.
What I'd really like to see is a list of the questions they chose not to answer.  I'm sure that would be entertaining.  I'd love to hear a funny answer from Tiger on the recent "hot dog incident."  Some humor would be good.