Written by:
Tony Korologos
|
Date:
Tuesday, May 1st, 2012
Categories:
Golf Books
•
Reviews
---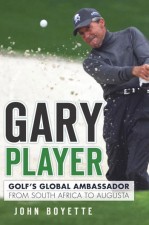 It has been a year since my last book review (or so it may seem) so by default it is time to do my next one.  I don't get a lot of time to sit down and read books.  If I'm not writing about golf I'm playing it.  Thanks to a nice little break by a pool in Las Vegas this past weekend I was able to bust out an enjoyable read about Gary Player:  Gary Player: Golf's Global Ambassador from South Africa to Augusta.
John Boyette is the author of this book.  Boyette is the sports editor for the Augusta Chronicle and thus the book covers a lot information related to the Masters Tournament and Augusta National.  Perfect for my interests as I'm such a Masters fan and history buff.
The book is a timeline chronicling the career of Gary Player from his humble beginnings as a child in South Africa and finishing at the Masters as Player joins Arnold Palmer and Jack Nicklaus as honorary starters.  In between are all sorts of great stories, quotes and inside information about Player's career and the Masters.
There are some nice nuggets in the book which are interesting, for instance Player's involvement with the beginnings of IMG management.  IMG was perhaps the first real sports management group, setting the foundation for the lucrative contracts athletes like Tiger Woods enjoy today.  I also like the recounting of Player's rounds with a young Seve Ballesteros and how Seve told Gary he "showed him how to win Masters."
Conclusion
This is a very easy and enjoyable read.  The book is supported by some great photos, with an assortment of color images in the center section.