Written by:
Tony Korologos
|
Date:
Friday, January 20th, 2012
Categories:
Golf Apparel
•
Miscellaneous
•
Site News
---
Like most golfers, I'll try anything to save a few strokes.  The lamp shade thing didn't work too well last week.  It was worth a try…
New across my desk here at HOG World Headquarters and newly added to the review queue are two pairs of undies from Ruez Performance Underwear (above).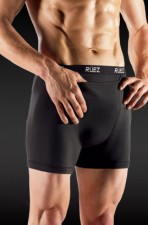 Ruez's underwear features a "performance pouch" and moisture wicking fabric which "brings a comfortable, clever end to chafing, sweating and adjusting."
Ahem
Well I can say this.  I've been working out at the gym lately.  I'm just sayin'….  And as was evident in my Potty Putter photo shoot, I'm not afraid to take pics of myself in my undies or less and post them on the internets.
That being said, I'm NOT going to stuff my performance pouch like the promo photo seen right.