Written by:
Tony Korologos
|
Date:
Thursday, June 23rd, 2011
Categories:
Golf
•
Golf Courses
•
HOG World Tour
---
It is now about 12 hours since the final hole of yesterday's amazing Solstice Golfathon, a 72 hole, four state, four course endurance test. With temperatures reaching 112 degrees and golfing for 17 hours, I have a massive headache and some dizziness this morning. I'm craving pancakes.
I'm about to hit the road and head home, so here's a quick recap of round four.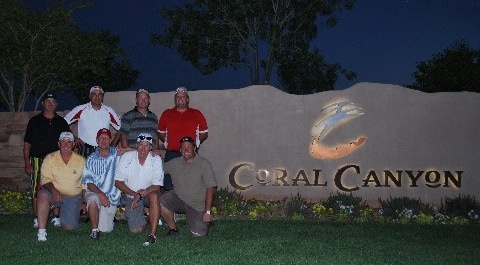 We arrived at the beautiful Coral Canyon golf course in Hurricane, Utah around 6:00pm local from Arizona. We were all very physically drained but still had a fantastic time at Coral. Amazingly the group had many good golf shots left in them. My game was definitely weak and I couldn't putt very well but still enjoyed the company of my seven new golf buddies and the fantastic scenery.
The final putt was holed at 9:04pm, 16 hours and 48 minutes after the first tee shot was struck some three states away.
I've added a few more images to the Solstice Golfathon photo gallery, and I'll add the rest when I return home to HOG World Headquarters.