Written by:
Tony Korologos a.k.a. mediaguru
|
Date:
Wednesday, April 2nd, 2008
Categories:
Golf Media
•
PGA Tour
---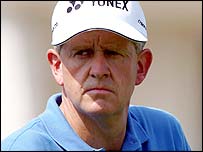 Mrs. Doubtfire, or as many people know him, Colin Montgomerie won't be playing in The Masters this year. He's complaining in the media about the fact that three Asian players have been invited to play in The Masters who are ranked 80th, 93rd and 111th. Monty is ranked 75th in the world.
I get his point, but business is business. The Masters needs an Asian draw for TV. And, it never helps anyone to go against the Augusta National – Masters establishment. You'll lose every time.