Written by:
Tony Korologos
|
Date:
Thursday, August 23rd, 2007
Categories:
Miscellaneous
---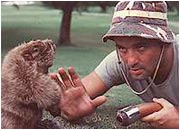 I'm a big Bill Murray (Caddyshack) fan. So is my daughter who became his friend a couple of years ago when he befriended her and even bought her an ice cream.
Apparently Bill was driving a golf cart in Stockholm and was pulled over for drunk driving.