Written by:
Tony Korologos
|
Date:
Friday, February 17th, 2006
Categories:
Golf Courses
•
Life
•
Miscellaneous
---
My pop just got back from a trip to Antarctica. When I asked him what made him decide to go on a trip to Antarctica his answer was "it's Summer there." OK. Fair enough.
While looking at penguins and glaciers he ran across this neat golf course in the town called Ushuaia in Southern Argentina. This is near Cape Horn at the bottom of South America where the Atlantic and Pacific Oceans meet. Latitude: 54° 47′ South. Longitude: 68° 20′ West.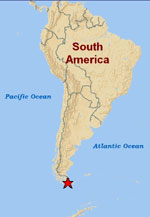 Ushuaia golf course is the most Southern golf course in the world. You have views of glaciers from the course and apparently it's a tough bugger because of the local winds.
Pop was able to snap a couple of pictures and snag me a sleeve of golf balls for my logo rack. I don't think many golfers have one of these logo balls.


Click below to see more pictures or visit the photo gallery.

Photos by Mike Korologos