Written by:
Tony Korologos
|
Date:
Saturday, September 17th, 2005
Categories:
Hackers
•
Miscellaneous
---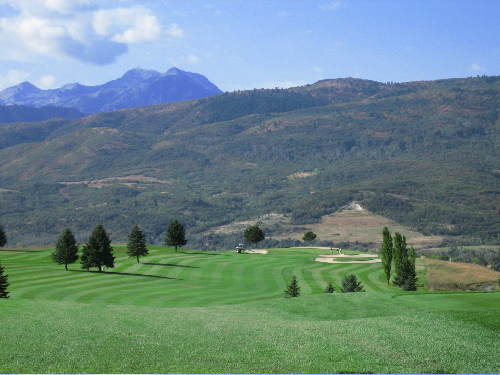 Above is a picture from the 2nd tee at Wolf Creek Resort in Eden Utah. This is definitely "Eden." I'll have a review of Wolf Creek posted here soon.
Today was my first round of the tournament of champions. Though I was even par after about 5 holes, I had a couple of swings that cost me a ton of strokes. I played my worst round of the year, and had my worst ever score on a hole in a tournament. For the first time this golf season (and perhaps even last season), I knocked a tee shot OB.
I didn't expect to be in contention in this tournament to begin with. The players in this tournament are all "flatbellies" and are either the winners of their club championship or the local amateur champs from various tournaments. These guys can all stick. Many had caddies. Speaking of caddies, I'll have a rant post about them shortly.
I did expect to be "respectable" and represent my club well. I did neither. The one thing a did accomplish was cleaning out the old golf balls out of my bag.
There was a funny comment one flatbelly I played with said. He was a bomber. Who isn't these days? So I knock a decent drive down the fairway about 290. He blows it by me about 30 yards. I told him I just couldn't try to keep up with him on the drives. He said "it helps to be young." So what…am I old? That's the first time someone has implied that I'm old other than my kids. #40 is coming up next month so I guess he's right.
I do get a chance to redeem myself during the 2nd day tomorrow. I'm sure I'll be starting very early since the leaders start late. I'll be up at the crack of dawn…