Written by:
Tony Korologos
|
Date:
Saturday, July 16th, 2005
Categories:
Miscellaneous
•
PGA Tour
---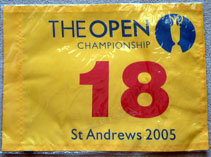 5 days ago I got a wild hair and decided to order some goodies from the Open Championship web site. I ordered a little gift pack with balls, tees, markers etc. I also ordered a St. Andrews Open Championship flag that you see here.
Amazingly this stuff got to me in 4.5 calendar days. This is no 'round the block shipment either. It had to go from the Open Championship warehouse (presumably in Great Britain or Scotland), to me here in Utah. I've had UPS ground shipments from 30 miles away take 4 times longer!
Open Thoughts
So after day 3, Tiger still holds the lead. Today was that "down" round I expected him to have. Today was the struggle. I still think he'll finish the winner at -13 as I predicted before the open started.
Nice to see Jose Maria (2 strokes back) in the final group. That should be an interesting pairing. The more nervous Jose gets, the more times he looks at the target before he swings. He's got it under control lately but let us see if that habit creeps in. Seriously, count how many times he looks at the target from preshot routine to striking the ball. I counted 32 once…
Then you have Goosen and Mrs. Doubtfire…er "Monty" in the next group (3 strokes back).
It's been a fun week of golf and I'll be sad when it is over.