Written by:
Tony Korologos
|
Date:
Friday, July 8th, 2005
Categories:
LPGA Tour
•
PGA Tour
---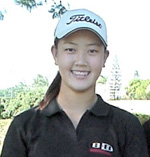 So Michelle Wie missed the cut by a couple of strokes today at the John Deere Classic. She did show some amazing shot making abilities in the process though.
She shot 70-71 to finish -1 for the two rounds. With all the talk about her missing the cut perhaps some perspective of how close she is to competing on the PGA Tour is really the question. Sure she needs to make a cut, but she finished 12 strokes behind the leader after two rounds. Given that pace, she's a good 5-6 strokes per round short. Can she improve that amount? Heck SHE is an AMATEUR and 15 YEARS OLD. Time will tell.
Another perspective is who missed the cut along with her this week. Nick Price comes to mind. He has been extremely vocal about not allowing women to play on the PGA Tour. And now he shoots a two day total of 141, as does Wie.
Wie finished 3 shots in front of Aaron Baddeley. So far Baddeley has been a pretty boy with not much to back it up on tour.
And why not talk about Wie beating David Duval by 7 strokes. As far as Wie is from contending on tour, Duval is that far from staying on tour.