Written by:
Tony Korologos
|
Date:
Thursday, June 16th, 2005
Categories:
Golf Equipment
•
Golf Media
---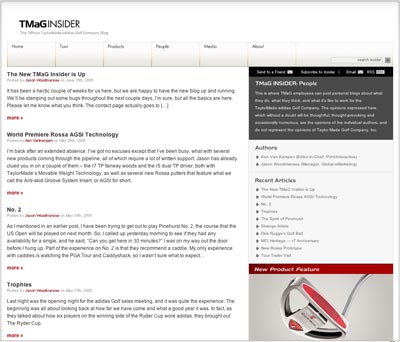 After much fanfare, the new TMAG (TaylorMade, Adidas) blog is up and running. This blog looks great. It is nice and clean, and keeps the "theme" of the whole TMAG site. The Carlsbad Confidential link now goes straight to the "people" subsection that I couldn't find yesterday. The people subsection is one of 4 basic categories at http://www.tmaginsider.com/. The other 3 are: Home, Tour & Products. There is an "about" page and a "media" page as well.
OK, I was a doubter before and I did give them some hell, but for the first few hours it has been up it is looking good. (Much better than the old one). I'm sure as they have time to tweak, it will get even better.