Written by:
Tony Korologos
|
Date:
Monday, June 13th, 2005
Categories:
LPGA Tour
---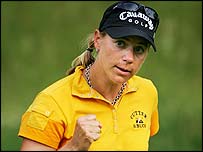 Keep your eyes open. We're seeing some major golf history unfold in front of us right now. Annika has just won her 2nd leg of this year's LPGA grand slam by winning the LPGA Championship. Tiger could win his second leg this week at the US Open, but the odds that Annika gets it are astronomically higher in my book.
I better not forget to mention that Annika won the LPGA for her 3rd time in a row. Mark that down as another of the LPGA records she holds.
Michelle Wie had a good showing by taking 2nd place, 3 strokes back. Nice to see her competing against a field that she should compete against. The PGA tour can come, but Michelle needs to prove herself in some LPGA events first.