Written by:
Tony Korologos
|
Date:
Saturday, May 28th, 2005
Categories:
Miscellaneous
---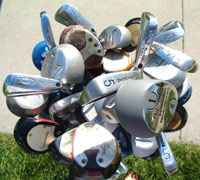 I just sold my house and now the chaos of cleaning out all my old crap has begun. I had no idea how many golf clubs I had in my basement. I'm guessing I have over 100 clubs… Years back I used to do some work for Browning/Bag Boy so I had a bunch of their gear, along with tons of other stuff.
Today I had a garage sale and it looked more like the local golf demo days. On my front grass I had 3 complete sets of irons, 3 brand new pull carts, about 15 brand new drivers, 4 putters, 5 sand wedges, 3 umbrellas, 3 golf bags, 12 dozen Nike balls and more. I was selling old dressers to the wife and throwing in a sand wedge for the husband.
This pic you are seeing is what I had left after dumping a ton of my "backup" golf gear.
Do you think this set is in violation of the 14 club limit?