Written by:
Tony Korologos
|
Date:
Tuesday, May 14th, 2013
Categories:
Golf Accessories
•
Golf Gear
•
Reviews
---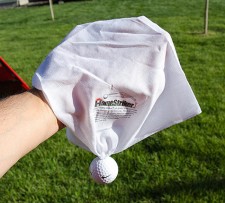 I have so many golf accessories kicking around my house.  I can't get to them all.  I've been blowing off trying the Home Striker because I thought it was another cheesy and useless golf accessory.  Something told me to give it a shot, so to speak, and now I'm glad I did.  This this is kind of fun!
Home Striker Concept
Hitting full shots with real golf balls in one's back yard is not realistic, unless of course you are Tiger Woods and have a small golf course on your property.  Hitting whiffle balls is lame.  They fly crooked and break, and they don't have the feel of a real golf ball.  Enter Home Striker!
Home Striker Video
Home Striker is literally a golf ball with a hole drilled in it and parachute attached.  In the case of mine it is a Nike Golf ball.  I poo-poo'd this idea at first, but after whacking the parachute around my back yard for a while I've changed my tune.  This thing is fun!  No it doesn't fly like a real ball and I can't really tell if I'm hitting cuts, draws, hooks or slices.  But I can take full swings in my yard without worrying about killing the neighbor's dog.  Hmmm.  On second thought, those two damn yelping poodles next door just might benefit from a Titleist to the cranium at 167 miles per hour….
Conclusion
Yeah the Home Striker is a bit cheesy, but I like it.  I'd put this one on the Father's Day golf gift idea list.