Written by:
Tony Korologos
|
Date:
Monday, September 26th, 2016
Categories:
Golf
Tags:
Arnold Palmer
---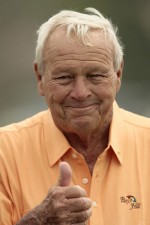 I've had the opportunity to meet and even hang out for extended periods of time with many of golf's legends. Unfortunately Arnold Palmer was not one of them. That ship has sailed now, with the passing of The King yesterday. I've been close a few times. Watched him golf, practice.  I followed a group around once on which included Mr. Palmer, Jack Nicklaus, and Lee Trevino.  What a time that was.  I've been close to him at the Masters, but didn't want to bother him while he was eating a chicken sandwich.
The closest I got, and most memorable occasion was when I was on a golf trip to Mesquite, Nevada many decades ago. So long ago I'm not sure I can remember the decade. I'm guessing early 1990's. After a day of golf my golf buddy and I hit the casino to gamble. It was the old Peppermill, which later became the Oasis. Now all that is there is a slab of cement.
Anyway, we decided we wanted to play craps. The craps table had a huge crowd. We squeezed in on one end and threw down a few bucks. To our surprise Arnold Palmer was at the other end of the table throwing the dice. The energy was fantastic and the crowd would cheer or groan depending on whether those little dice produced a hard-eight or snake eyes.  As it turned out, Arnie was in Mesquite designing a golf course there.  The course is one I've played many times and the one I consider the best in town, the Oasis Palmer Course:
Though I never met Mr. Palmer officially, he touched my golf spirit as he has for just about every golfer that's ever lived in the last half century or more. He changed the game in terms of its notoriety, sponsorships, television contracts, and of course general popularity. The millionaire pro golfers of today have Mr. Palmer to thank for their opportunities.
Mr. Palmer seemed to have an energy and spirit that touched everyone around him.  Even my mom, may she rest in peace, had an "Arnie" story.  She lit up like a Christmas tree every time she would tell me her Arnie story.  She was watching him play at a tournament and he winked at her as he walked by.
I had a feeling something was not right when it was announced earlier this year that Arnie would not be able to hit the ceremonial tee shot at the Masters.  That moment in time always brings a tear to my eye.  This coming Masters I'd better have a whole box of tissues ready, knowing he won't be there.
I may not have the most eloquent stories or intimate memories of the King, but I never passed up an opportunity to watch him and I understand the impact he has had on my sport.  The world, not just golf, has truly lost one of the greatest ever.
Gone but never forgotten.  Arnold Palmer, Arnie… The King.