Written by:
Tony Korologos
|
Date:
Monday, September 5th, 2016
Categories:
Cigars
•
Golf
•
Golf Lifestyle
•
Reviews
Tags:
Cigars
---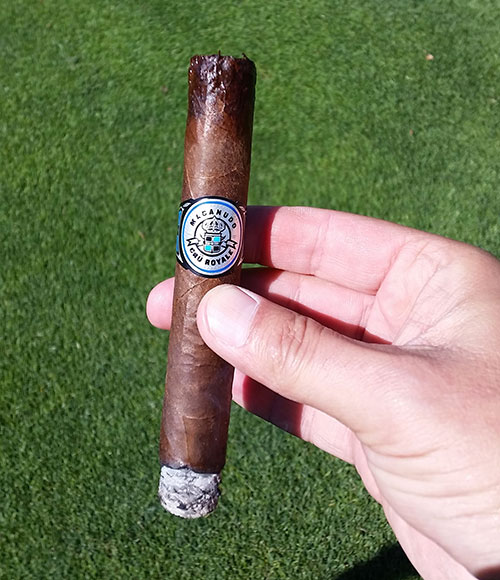 Triumphant story to share today, and it involves the Macanudo Cru Royale cigar.
On the 10th hole in the weekly money game I gave my opponents the typical courtesy warning I always do when lighting up. It goes something like this:
"I'd like to kindly inform you that I'm about to light up a cigar. Before I light it I'm giving you the opportunity to surrender."
They looked at me and chuckled it off a little bit. Then I hit a 330 yard drive. I hadn't hit a good drive all day. Following two straight pars I came to the long par-3 of about 225 yards. I striped a 4-iron to the center of the green, then drained a 30 footer for a birdie two. Game on. Puff puff.
The rest of the back nine I was in the zone. For the seven holes I was smoking the Cru Royale I had six pars and a birdie. One under par. I made my first and only bogey on the back nine on the last hole. No cigar. But by then the match was over. My partner and I dominated.
What makes the Cru Royale so good? Here's the description from my friends at Famous Smoke Shop, which has a large selection of macanudo cigars.
Macanudo Cru Royale cigars are a medium-bodied, full-flavored selection from one of the cigar world's most highly-acclaimed brands. Crafted under the direction of the legendary Benji Menendez, each cigar has a core of Nicaraguan & Dominican Viso longfiller with Brazilian Mata Fina, plus a proprietary Dominican La Vega Especiale binder rolled in an Ecuadorian Habano seed wrapper. Expect a well-balanced, aromatic smoke brimming with rich, complex flavors on a savory finish.
Macanudo Cru Royale Toro
Strength: Medium
Size: 6 x 54
Country of Origin: Dominican Republic
Wrapper Color: Natural
Wrapper Origin: Ecuadorian
Wrapper Leaf Type: Habano
Price: $7.49 per cigar
The numbers don't lie. I may have to be smoking a Cru Royale on every golf hole I play for the rest of my life.