Written by:
Tony Korologos
|
Date:
Sunday, August 21st, 2016
Categories:
Cigars
•
Golf Life
•
Golf Lifestyle
•
Reviews
Tags:
Cigars
---
For a golf blogger some days are great and some days are awesome. The awesome ones are when unexpected packages show up for review, and they're not another bent piece of metal known as a "golf club stand." Oh no. The awesome days are when those unexpected boxes of joy contain really useful, tasty, enjoyable, relaxing, score-improving…. Davidoff limited edition golf cigars.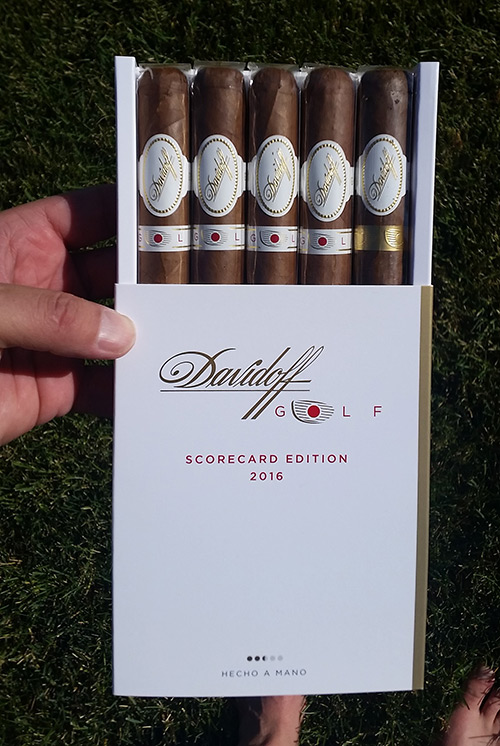 The Davidoff Golf Scorecard Edition 2016 cigar is a Gran Toro format. This is about a six inch cigar which is fairly thick with a ring gage of 55. "Enjoyment time" (love that) is about an hour. During that our I offer my golf opponents the opportunity to surrender, because I'm deadly with the cigar as my 15th club. Today they declined the offer and paid the price. Don't say I didn't warn you.
This Dominican based cigar is wrapped in a veinless leaf. I didn't know how much I would like that until I had one. The strength is medium to strong by my experience, but Davidoff's rating is medium.
A box of five hours of enjoyment time will run about $120 but don't fret. That's the same cost as a couple of boxes of Titleist ProV1's, but you won't find any great cigars in the bushes.