Written by:
Tony Korologos
|
Date:
Wednesday, July 6th, 2016
Categories:
Golf Apparel
•
Golf Gear
•
Reviews
Tags:
golf polo
•
Puma
---
If the lovely bride isn't there to do my apparel scripting for me (set my day's outfit out on the bed), I like to go the Gary Player route.  Black.  Black matches black. I can remember that. So this black Puma D_Vent golf polo is perfect for those days.  It's also perfect for golf, even in the summer.  Here's why.
This polo features Puma's dryCELL technology with moisture wicking properties.  Moisture wicking is a process where the garment actually pulls moisture away from the wearer's body.  This technology helps keep the player more dry, cool and comfortable.  The D_Vent also provides the wearer UV protection from the sun's radiation.
The 100% polyester fabric is so much more flexible and comfortable than cotton.  This fabric feels great in the golf swing and doesn't restrict, pull, or bind.  There's even a slit or "vent" in the upper back which aids in comfort and provides a place for heat to exit, especially good when one needs to cool down after a 3-putt.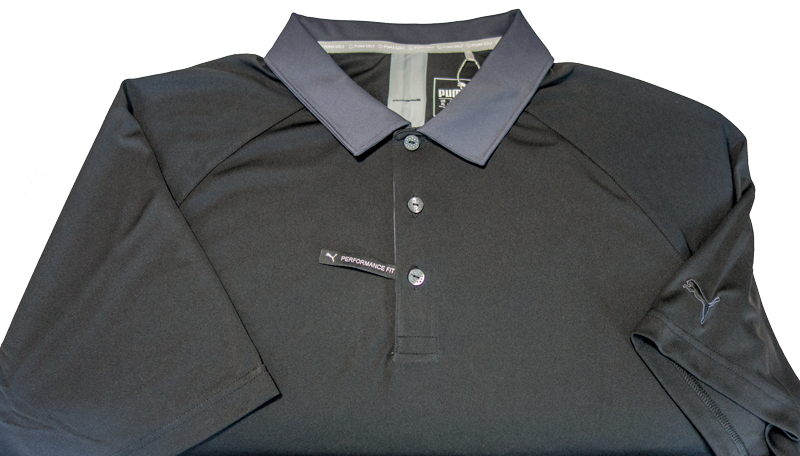 This polo is so comfortable I love wearing it for daily use, off the golf course.  Whether I'm at the office crafting incredible golf blog posts or out chasing little Seve around the neighborhood, I'm comfortable, cool, and stylish.
Sizes/Colors
Available colors: black, red, white, orange, "peacot" and blue.
Available sizes: small, medium, large, extra-large, double extra-large
I normally wear an XL and like a comfortable loose fit and Puma's sizing is right on with that.   Accurate.  Not "skinny euro" sizing.
Final Thoughts
It's hard to crank out a 2000 word review on a shirt.  But since I picture is worth 1000 words, I came pretty close.  Seriously though, this very stylish and affordable ($65) Puma Golf shirt scores perfectly in all the areas I consider important for a golf polo: comfort, style, performance, durability, easy care.
And my color selection, black, matches everything in my wardrobe. No failed apparel scripts.