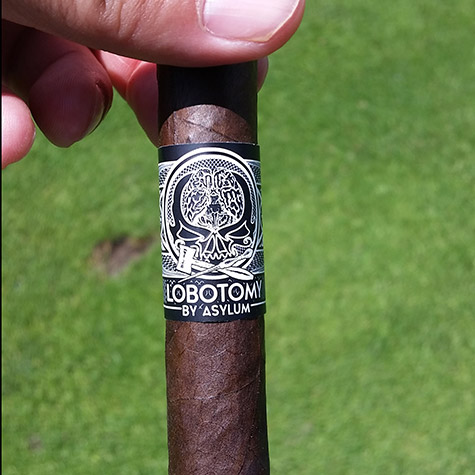 Written by:
Tony Korologos
|
Date:
Sunday, July 3rd, 2016
Categories:
Cigars
•
Golf Lifestyle
•
Reviews
Tags:
Cigars
---
The weekend grudge match today started out rough, pun intended.  I had a new partner and he pretty much carried me the whole front nine.  Despite his heroic efforts we were two-down starting the back.  I knew I had to pull out the big guns for us to have a chance at coming back.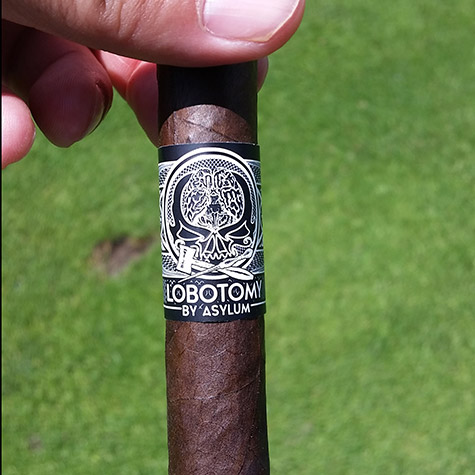 The latest in the cigar review queue is the Lobotomy by Asylum, courtesy of Famous Smoke shop.  I was playing so bad I felt like I'd had a lobotomy.  Could this stogie help bring my game back?  After analysis of the Lobotomy slogan I was liking my chances:
"With a strength profile that will shock your receptors back to normal, and a flavor as complex as a Rorshach Test, these cigars will ease your stress and help you relax like never before. Get your Lobotomy now. Er… Asylum Lobotomy that is."
Lobotomy Info
Strength: Medium-full
Filler: Aged cuban seed tobaccos
Wrapper: Nicaraguan
As usual, I gave my opponents the opportunity to surrender before I powered up the Lobotomy.  Their mistake was not accepting the offer.  Upon my enjoyment of the Lobotomy, my game improved greatly and my partner and I scratched out a tie when it had looked like we were dead and buried.
Lobotomy isn't one for the weak.  It's a bold cigar.
Bold is what just what the neurosurgeon ordered.