Written by:
Tony Korologos
|
Date:
Wednesday, June 22nd, 2016
Categories:
Golf Apparel
•
Golf Gear
•
Golf Lifestyle
Tags:
Apparel
•
Devereux
•
Golf Apparel
---
"Proper Threads"
I love that statement. It seems many golf apparel makers are going for shock value, and becoming less and less classy and sophisticated. Those flashy products may be hot for short period, but become passe quickly. Conversely, a product like Devereux with it's simple and elegant styles, stands the test of time.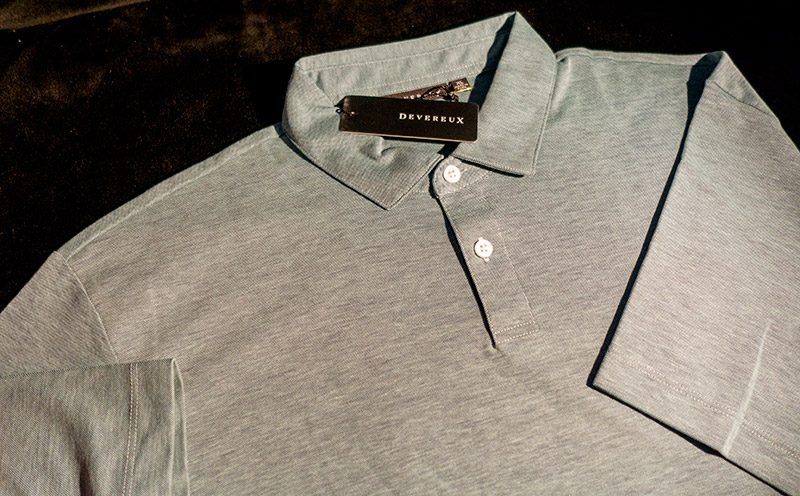 The simple and stylish Andrew polo, part of the "72 Collection," is certainly not one where the user needs to know where the replacement batteries go.  The $75 Andrew is sharp, classy, elegant, and easy to put together in all sorts of apparel scripts.
"A closet filled with big bright in-your-face colors and dizzying patterns that SCREAM will not transform you from dud to stud. Oftentimes, the reverse is true." ~Devereux
Colors/Sizes
The Andrew comes in four colors: steel (pictured above), aqua, coral, navy.  Each color easily pairs up with numerous short/pant combinations.  I recommend pairing the Andrew up with the Devereux Martin Shorts (review coming soon).
Sizes for the Andrew polo: small, medium, large, extra large, double extra large.
Specs
On The Course
I've had the Andrew in play for many rounds this golf season, in some very different conditions.  Earlier in the spring I put the Andrew through the colder temps here in northern Utah.  Then a trip to Indiana had me testing out the polo in high humidity and 97 degrees.  And just this week I wore the polo for a round in which the air was extremely dry and the temperature at the end of the round was 104.  In those varying conditions the polo performed well and stayed comfortable.
During the golf swing some poorly designed polos can bunch up, pull, tug, and come untucked.  The Andrew's cut keeps me comfortable.  Even with my violently spastic golf swings the polo stays in place.
The Andrew is great to wear while writing golf blog posts at HOG world headquarters, or when out on the town.  It can work great in business casual situations.
Conclusion
The Andrew polo by Devereux is a solid performer on and off the course.  It exceeds my strict requirements for golf polos: performance, comfort, style, and easy care.  Set your apparel script up with some proper threads.
Related Content